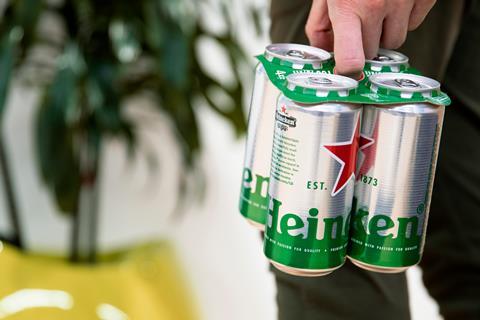 Food and drink manufacturers have made little progress in prompt payment to suppliers as the coronavirus crisis piles pressure on smaller businesses, research by The Grocer can reveal.
It comes as a recent study by the Federation of Small Businesses found a majority of SMEs have been subject to late or frozen payments in the wake of the outbreak.
Analysis of the government's latest payment practice data by The Grocer found some small improvements in the average time it took to pay suppliers by the UK's biggest fmcg manufacturers, but many still far exceeded the recommended 60-day limit set out by the Prompt Payment Code.
United Biscuits, Mondelez, Molson Coors, Heinz, Britvic, Diageo, Kerry Foods, Hovis, Burton's, Heineken and Weetabix were among the companies taking more than 60 days to pay suppliers or paying at least 15% of invoices outside agreed terms, data covering six months showed.
AB InBev took 120 days on average to pay, compared with 132 a year ago, according to its latest payment report. It also reduced the percentage of invoices paid outside agreed terms from 16% to 14%.
Read more
The supermarkets, by contrast, took an average of 42 days to pay, with the big four on 45 days. All late payments are below 5%, similar to a year ago.
During the pandemic, retailers improved terms for small suppliers to help cashflow problems. Last week Sainsbury's scrapped its commitment to immediate payments from 15 July. Sainsbury's stressed changes to terms for small suppliers meant they were better off now than before the Covid-19 crisis started.
Businesses are free to negotiate payment terms with their suppliers, but they must be "fair" under current UK legislation. However, pressure has been building for years to urge businesses to pay smaller suppliers within 30 days.
Urgent reforms
The FSB is calling for urgent reforms on the issue and suggests giving the Small Business Commissioner additional powers to fine repeat late payment offenders and make 30 days the standard definition of prompt payment as set out in the Prompt Payment Code.
A number of large food and drink businesses such as BAT, Diageo, AB World Foods and Unilever, have been removed from the code by the commissioner for failing to meet the guidelines, which requires signatories to pay 95% of suppliers within 60 days and aim towards 30 days.
The latest payment report data showed Unilever took 60 days on average to pay its suppliers, with 3% of invoices outside agreed terms. In March, the Dove and Persil owner offered €500m (£462m) in relief to vulnerable suppliers and retail customers in the form of early payment and credit extensions.
"Unilever is fully committed to paying all our suppliers fairly and on time, with all our payment terms mutually agreed up-front," a Unilever spokeswoman told The Grocer.
"For our smaller suppliers, SMEs and charities we have payment terms of 30 days. At the end of 2019, the average time taken to pay invoices for Unilever UK was 60 days and we paid more than 96% of our invoices on time."
AB InBev said it worked with suppliers on an individual basis to negotiate terms to suit both parties.
A Budweiser Brewing Group spokeswoman said: "Our average time to pay an invoice is driven by large businesses and intracompany payments making up 83% of invoices over this reporting period. The average payment figure relates largely to these suppliers, as small and micro suppliers contributed to 8% of invoices."
She added the group had also changed payment terms for micro, small and medium suppliers, moving small and micro suppliers to 60-day payment terms.
*This article was amended on 14 July 2020. It originally said Yoplait was among the companies taking over 60 days to pay suppliers when in fact its latest report showed it took 53 days on average.