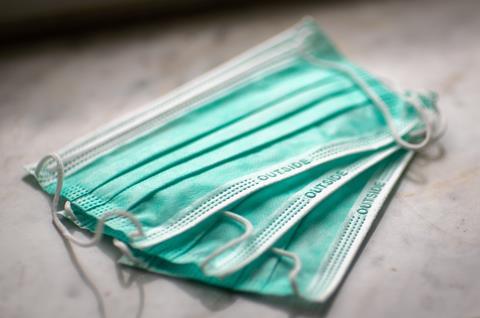 Earlier this month, PHE advised against the wearing of masks for workers in factories and supermarkets

All manufacturers who use fine powder ingredients issue staff with face masks as part of their standard health and safety policies

One source said the move would "effectively stop the food industry from operating"
Suppliers fear their factories could be left "paralysed within days" if the government recommends the wearing of face masks by the public and workers to tackle the spread of coronavirus.

The Grocer understands there are growing fears in the industry that ministers will bow to pressure for the UK to follow other countries such as Austria and Germany, which are making the wearing of masks a key part of their lockdown exit strategy.

The government is reviewing its policy on masks, despite advice from PHE earlier this month advising against them being worn for workers in factories and supermarkets.

Companies say a global shortage of the equipment would make it impossible for workplaces to remain open if the advice is changed.

Already all manufacturers who use fine powder ingredients, including seasonings, flavourings, stabilisers, cocoa and flour, as well as powdered household products, issue staff with face masks as part of their standard health and safety policies.

"If manufacturers were required to use face masks across their sites, the usage would increase 20-fold and current stocks would be exhausted within days, leading to shutdowns," one leading supplier told The Grocer.

"The NHS is currently encountering progressively greater challenges sourcing supplies of face masks, as most are made overseas and international demand has soared.

"If the government were to recommend usage of face masks, the general requirement for masks would make it even harder for the NHS and manufacturers."
Read more:
Another leading industry source said: "If the government recommends the wearing of masks for everybody, and even more so if it goes down the mandatory route, this will effectively stop the food industry from operating because there simply aren't enough of them. The industry would be paralysed.

"We all know there aren't enough masks at the moment for the NHS - by extending that to food manufacturers alone you add another 450,000 people and with retail upwards of a million, and that's without the general pubic."

Jonathan Kittow, whose company Simply Supply Chain has been holding weekly coronavirus crisis meetings with members including Pladis, Mars and KP Snacks, said the issue of masks had become a huge threat to the industry's response to feeding the nation during the outbreak.

"Suppliers have raised specific concerns about widening the use of face masks across factories, or by the public," he said. "Supplies are sufficient for current usage, but a significant increase could threaten current production levels, with no proven benefit to the healthy user.

"With manufacturers investing heavily in additional equipment and ways of working to ensure their staff remain safe and confident, it would be a great shame if the unintended consequence of trying to enhance staff safety resulted in further product availability issues and the delay of other manufacturing sites returning to production."

However, the FDF has previously revealed there is at least anecdotal evidence that wearing of masks can help reduce levels of absenteeism because it makes workers feel safer.

Some unions are demanding the government acts quickly to extend the use of face masks to all factory staff, whilst London Mayor Sadiq Khan has called for masks to be worn by everyone to protect workers such as bus and tube drivers.