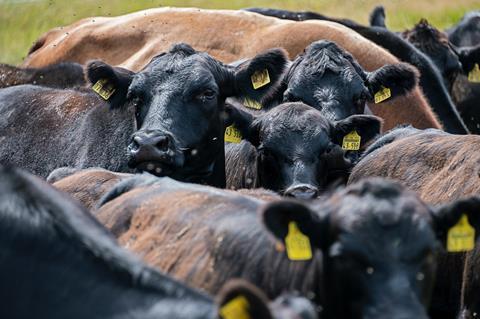 Food companies including meat giant JBS and multinational PepsiCo are among those to have been named and shamed over their "poor" environmental credentials.
Both companies were slammed for not being transparent when it came to their climate footprint in the latest corporate governance report by the New Climate Institute (NCI), which looked at the environmental track record of some of the world's biggest multinational companies.
Brazilian meat giant JBS ranked in the bottom four, alongside French grocery chain Carrefour, South Korea's Samsung, and US airline American Airlines.
Other food and drink behemoths called out by the NCI included PepsiCo, Nestlé and Amazon. They often had "ambiguous" net zero pledges, used offsetting tactics to reduce emissions, and showed a lack of concrete strategy for reducing Scope 3 emissions, the NCI's Corporate Climate Responsibility Monitor report showed.
"Overall, we find the climate strategies of 15 of the 24 companies to be of low or very low integrity," the research authors wrote.
"We found that most of the companies' strategies do not represent examples of good practice climate leadership. Companies' climate change commitments often do not add up to what their pledges might suggest."
The report follows a high-profile complaint against JBS at the US Securities and Exchange Commission (SEC) over claims it kept crucial information from investors as part of a $3bn green bond issuance.
The complaint, filed by campaign group Mighty Earth, claimed JBS based its bond offerings on its commitment to achieve net zero emissions by 2040. But despite this, the group says, not only have JBS emissions increased in recent years, but it excluded 'scope 3' supply chain emissions that comprise upwards of 97% of its climate footprint.
JBS has disputed the claim, arguing it made clear to investors that the bonds were intended to initiate the process of reducing its greenhouse gas emissions and not fund the entire process. It also pointed out it made clear the bond scope is explicitly limited to Scope 1 and 2 reductions.
But some observers are undeterred. "JBS has a poor track record on transparency," said Shefali Sharma, director of the Institute for Agriculture and Trade Policy's European office. "It doesn't report its full supply chain emissions and refuses to disclose basic data on the true scale of its production."
Read more: Why the JBS case will have serious ramifactions for green investment
The "flashy climate credentials" of companies like JBS, Nestlé and PepsiCo showed "very significant holes", said Maddie Guerlain, food systems lead at the Global Strategic Communications Council.
By contrast, Danish shipping multinational Maersk topped the NCI's ranking for its efforts to "disclose with high transparency and integrity" for at least three of the four emission scopes assessed (Scopes 1, 2, upstream Scope 3 and downstream Scope 3).
The Corporate Climate Responsibility Monitor assessed four main areas of corporate climate action: tracking and disclosure of emissions, setting emission reduction targets, reducing own emissions, and taking responsibility for unabated emissions through climate contributions or offsetting.
The NCI said most companies' climate pledges for 2030 fell "well short of the economy-wide emission reductions required to stay below the 1.5°C temperature limit", in line with the Paris Agreement's commitments.
According to the United Nations, emissions need to be reduced by 45% by 2030 and reach net zero by 2050 to keep global warming to no more than 1.5°C.
However, Nestlé has defended its GHG emission standards, saying it has followed the framework for disclosure of the Science-Based Targets initiative (SBTi) since publishing its Net Zero Roadmap in 2020.
"Based on the [SBTi] standard – and to our knowledge – we are one of the few major companies around the world to be below our reported GHG emissions level (ie versus 2018) across all three scopes of our activities," a Nestlé spokesman said.
"There is clearly disagreement between these two expert organisations [New Climate Institute and the SBTi], with regard to the approach companies should take toward achieving net zero emissions.
"This is problematic since, given the enormity and urgency of addressing climate change, companies need clear, common guidance on which to base their approach."
Nestlé also questioned the NCI's strict approach to the use of offsets in the food and agriculture sector, as "companies like ours can and must play a role in adopting nature-based solutions to achieve their climate targets".
"That is why we continue to invest in R&D and behind our sustainability initiatives as part of supporting farmers to grow food more sustainably – from restoring wetlands and enhancing natural habitats, to planting shade trees – all while helping farmers increase their yields and income within our supply chain."
The Grocer has also approached JBS and PepsiCo for comment.