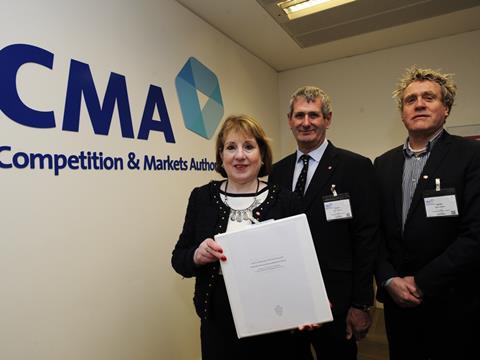 Senior National Federation of Retail Newsagents officials have urged the CMA to investigate newspaper and magazine distribution in the UK.

Earlier today, NFRN national president Linda Sood delivered an "explosive" 32-page document to the CMA outlining why an investigation should be launched into the news supply chain.

The NFRN report flagged up 'dramatically reduced consumer choice and product quality following the collapse of hundreds of newspapers, lack of new launches and the closure of news retailers'. It railed against soaring carriage charges, falling margins, deteriorating service from news wholesalers, and restrictions on the range and quality of titles offered.

The NFRN said the 'absolute territorial protection' enjoyed by news wholesalers meant they had 'little incentive to drive up service quality' to retailers unable to change suppliers. Menzies Distribution and Smiths News currently hold a duopoly over the newspaper and magazine distribution network in the UK.

The NFRN also said newspapers and magazines were the only products sold by members which were protected by ATP and had a fixed universal cover price. It called for the removal of ATP to reinvigorate competition and provide retailers with a choice of wholesaler.

"Independent news retailers feel under siege from all corners of the supply chain. We have to contend with spiralling costs, greatly reduced margins and a service from news wholesalers which is frankly a disgrace, and all this is happening at the same time that newspaper and magazine sales are falling," said Sood.

"Hundreds of local newspapers have closed, newsrooms have been decimated and retailers that sell these products could be consigned to history if regulatory action is not taken.

"What is happening is bad news for news retailers and bad news for our customers. That's why we need the CMA to take action against the clear anti-competitive behaviour in our industry and establish a level playing field throughout the news supply chain before it is too late."

In February, the NFRN slammed Menzies Distribution for hiking its carriage charges further to an average of 2.7% by 1 April, just days after the federation published a report condemning poor service and escalating carriage costs within the newspaper and magazine distribution network.