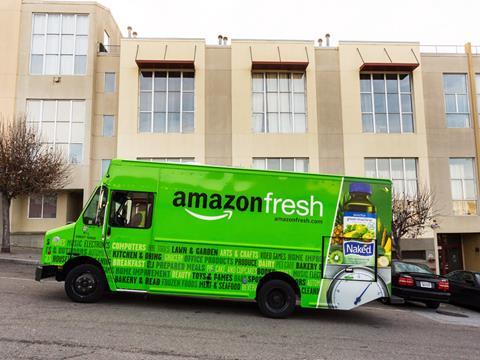 Amazon has put the brakes on the UK launch of Amazon Fresh after details were leaked to the press, The Grocer understands.
Rumours of the UK debut of Amazon Fresh have been circling since July, when The Times published an article suggesting the service could be available to Brits from September.
However, an insider told The Grocer that Amazon - which is notoriously secretive - had decided to "put things on hold" after the media reports emerged, and it "could still be months" before UK launch.
Much of the speculation around Amazon Fresh UK has been over how the supply chain would work and whether Amazon would form a joint venture or go it alone, using its existing ambient supply chain and chilled boxes rather than kicking off with a full multi-temp fleet.
The insider revealed Amazon was "working in partnership" with a British company run by the son of someone who is "well known" in food distribution, and was setting up its own fresh supply chain with three DCs, including Bedford and London.
Industry commentators expect Amazon Fresh UK to follow a similar model to the US service, operating a "marketplace" for some specialist producers, as well selling a range of "stocked" fresh produce, meat, eggs and poultry. The insider said deals had been struck with small and medium-sized suppliers and the focus was very much on high quality, high animal welfare and local sourcing. "They are being very particular over their suppliers," he said.
It would make sense for Amazon to focus on quality, given that online retail is most profitable in "wealthy urban areas where there is the right demographic and delivery is easier than rural areas", said Lawrence Hutter, CEO of Alvarez & Marsal Corporate Solutions.
He said Amazon Fresh would be "an attractive proposition" for small food producers, particularly given the current challenges in the mainstream retail market and ongoing range rationalisation by the mults.

Hutter added Amazon Fresh UK was unlikely to launch at full capacity, and would probably start small and scale up.

"Our expectation is they will launch relatively soft and focus for the first month on learning," he said.

"Amazon has a track record of trying something and then just reconfiguring it until they get it right."

The Grocer has previously reported that Amazon Fresh looked set for trials in Hackney after retailers, suppliers and other businesses in the area were approached.

Amazon has so far refused to comment on any aspects of the launch. The company did confirm on Thursday it would enter the French online grocery market with more than 30,000 SKUs available for home delivery, but said this excluded any fresh produce.