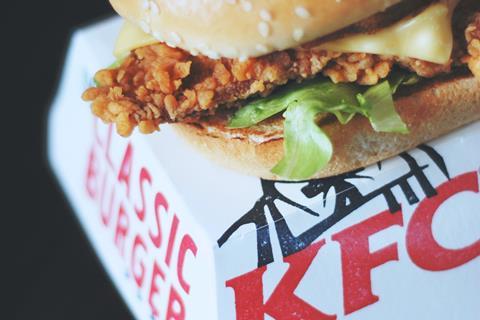 Last month, KFC UK & Ireland released its first ever Annual Chicken Welfare Report. It was a proud day for everyone involved. We have been on a continuous welfare journey to improve the lives of chickens since 2002 and are committed to improving chicken welfare standards.
Our partner FAI Farms wrote the report and held nothing back. It's an honest and open evaluation of where we stand today – looking at all stages of our supply chain, from barn to bucket.
Some of the results and metrics are tough to digest, but we're committed to being transparent and improving.
We only represent a small percentage of the chicken consumed in the UK. We source from suppliers who also provide chicken to all major supermarkets in the UK, as well as most big and small restaurant brands – and as leaders of big brands and businesses, we must all play our part. We must all demand and push for an improvement in chicken welfare and large-scale farming.
We've invested heavily in advanced measurement software as we know we cannot tackle problems in the supply chain if we don't understand where or what they are. We're holding ourselves accountable for measuring areas and sharing findings that haven't been publicly acknowledged before.
Read more:
Just like humans, some chickens do unfortunately get ill. Sometimes farming practices can be the cause – sometimes they're not. Acknowledging this isn't something that we can or should avoid.
Once this is accepted, we can then have an open discussion about how to improve. We saw some hard-hitting headlines when we released our report, but if we can't have this conversation without it becoming over-sensationalised, then you can wave goodbye to more brands and businesses joining the cause.
There are some hard truths in our report – footpad dermatitis levels are still too high, despite having fallen from more than half to 35% in just four years. But if you don't measure it, you can't improve it. And change is not going to happen overnight. That's the nature of driving change in a substantial industry – there are systemic hurdles to overcome. But we are committed to tackling them.
We may be a relatively small cog, but our brand means we have a platform, and we take this position seriously. We're aiming to lead by example.
We're the ones to have publicly released this data – but it's a supply chain others are involved in too, so we are calling on them to take note. We're setting an example, and this isn't the only thing we've led the industry on. We were the first in our sector to sign the Better Chicken Commitment last year and it's commitments such as this that led to us being ranked top of our sector in World Animal Protection's Pecking Order report 2020. Recently, Nando's joined the BCC and we're excited to see them start their journey.
We hope this Welfare Report acts as a wake-up call to the industry: to our peers as well as our suppliers – it's about them too. We've had positive conversations with our suppliers and they are open to working with us on this, which is great. We're showing them benchmark best practice data about their operations they've never had before, and together we intend to improve on it.
It's also a call to action for us – our organisation, our teams and our stakeholders. It's now clear exactly what we're looking for in terms of welfare improvement.
We've made good progress, but we need others to join us on the journey.
Without them, we cannot succeed.