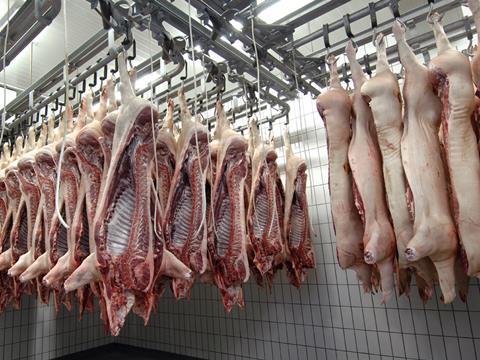 Production at Scotland's largest pig slaughterhouse will grind to a halt today unless supplies of CO2 arrive within the next few hours, pork giant Tulip has warned.

Tulip said the Brechin plant it operates in conjunction with Scottish supply group Quality Pork Ltd would cease production as early as this afternoon after it failed to secure a delivery of CO2 from its suppliers.

"Unless we get a delivery we will stop killing at Brechin at lunchtime," said a Tulip spokesman.

The processor added production of Scottish pork would be shifted to Tulip plants in England while the Brechin plant was closed. It has also sought a derogation from Quality Meat Scotland to allow pigmeat from QMS-assured, Scottish pigs to continue carrying its Specially Selected Pork logo, "allowing us to maintain animal welfare and support the Scottish pig industry".
Tulip uses CO2 to stun pigs during the slaughter process, while it is also mixed with nitrogen for use in packaging to help extend shelf lives.
Its warnings come as the CO2 crisis continues to plague the food and drink sector, with Morrisons confirming yesterday it was having the same issues as Ocado in supplying some frozen food due to a shortage of dry ice.

Meanwhile, 2 Sisters Food Group told The Grocer on Friday it had been forced to abandon the gas stunning of chickens in a bid to keep production lines running during the crisis. The British Poultry Council said suppliers were "on the ragged edge" due to CO2 shortages, while the shelf life of poultry on supermarket shelves would also be affected as manufacturers moved away from modified atmosphere packaging with CO2 to standard air-based packaging.
Danish Crown-owned Tulip said it was currently in a "hand to mouth situation", with some of its sites at times down to just a few hours of CO2 supply.
"However, we are on the whole managing to maintain our supply chain, albeit it remains very fluid," its spokesman stressed.

National Pig Association CEO Zoe Davies warned throughput could fall as plants followed the poultry sector by switching to alternative slaughtering techniques.
But she said she was "cautiously optimistic" the sector would be able to overcome the CO2 crisis.

Tulip's spokesman added relations with the gas sector "could be better".

He said: "We are in daily contact, but we have concerns (as with the rest of the industry) that very little if not no information is coming out of the gas sector about when this will be rectified. We've heard nothing about the cause of this issue or the solutions."
The shortage of CO2 was now having a "critical impact on the slaughter of pigs and poultry", said NFU Scotland's pig and poultry animal welfare manager Penny Middleton, who pointed gas stunning was the preferred method of slaughter for welfare reasons.
The decision to close would "impact heavily on pig units reliant on being able to get pigs away", she added.
"Any disruption to that flow can result in welfare issues and overcrowding. Given the expectation of animal welfare problems on pig and poultry units, NFU Scotland feels that it is vital that CO2 supplies are reserved and directed to those plants in need."