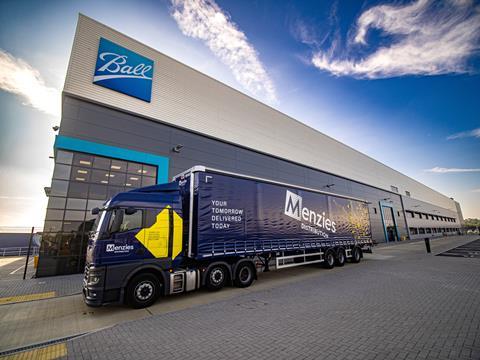 Coca-Cola's European bottling company has launched a partnership with packaging manufacturer Ball Beverage to trial HVO-fuelled vehicles in a bid to slash carbon emissions.
CCEP is trialling the use of vegetable oil part-fuelled vehicles for one year at the aluminium can manufacturer's Wakefield factory.
Hydrotreated vegetable oil, or HVO, is a renewable alternative fuel that has the potential to slash a lot of the carbon footprint related to supply chain transportation – from the production of a can, in this instance, to the final delivery stage to the consumer.
Other companies across the food industry, such as Aldi and Tesco, are using it as a way to shrink their environmental impact.
Around 5,000 deliveries will be powered by a blend of HVO and diesel fuel during CCEP's trial, which could result in a 300-tonne reduction of supply chain carbon emissions per year, it said.
The move is also part of Ball's wider Carbon Transition Plan, which outlines the company's pathway into a fully circular and decarbonised business in line with its net zero ambitions.
"We are delighted to work with Coca-Cola Europacific Partners on such an important project," said Tom McCarthy, VP of integrated business planning at Ball Beverage Packaging EMEA.
"Tackling emissions from transport is extremely important to us – from production of the can to final delivery stage. Through strong collaboration with our customers and suppliers across the value chain we are driving towards our sustainability goals."
Meanwhile, CCEP has been using HVO and other alternative fuels across its European subsidiaries including in Germany, the Netherlands and Spain for a couple of years.
The world's largest independent Coca-Cola bottler has goals to reach net zero emissions by 2040 and reduce GHG emissions across its entire value chain by 30% by 2030 (against 2019 levels).
Francisco Javier Sanchez Gandarias, CCEP Great Britain VP of customer service and supply chain, said: "We see it as our responsibility as a leading manufacturer in GB to support collaboration along the supply chain.
"We're aligned with Ball Beverage Packaging's goals when it comes to reducing emissions from transport, so that, together, we can make a bigger impact when it comes to tackling the climate challenge.
"We are continuing to encourage all of our third-party partners to transition to lower carbon solutions so we can produce and deliver the drinks people love more sustainably."