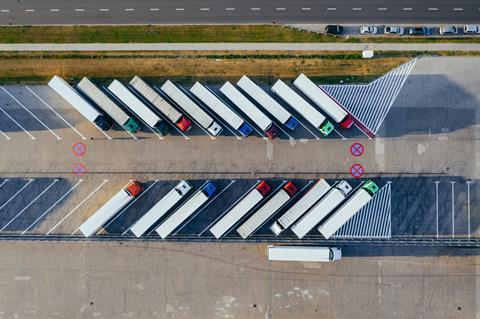 Fresh and frozen food logistics bodies have called on the government to delay its proposed ban on the use of red diesel by food delivery vehicles by three years, to give the sector more time to find viable alternatives.
In its March Budget, the government announced that from April 2022 it would remove the entitlement for several sectors to use red diesel in their operations. This would mean users would need to pay a fuel duty of 58p per litre of diesel, compared with the current 11p for red diesel.
Red diesel – which is similar to regular diesel, but with a red dye added to prevent it being used by regular road vehicles – is used in the cold chain to run refrigeration systems on some 40,000 trucks and lorries.
In his Budget speech, Chancellor Rishi Sunak said the sectors using the fuel were "some of the biggest contributors to our air quality problem" and that tax breaks for its use had "hindered the development of cleaner alternatives".
According to the Cold Chain Federation, British Frozen Food Federation, and Federation of Wholesale Distributors – who will send an open letter to Sunak calling for more time later this week – the proposed change "would impose at least £100m of unavoidable costs on to the bottom line of logistics, retail, and food manufacturing businesses".
Cold Chain Federation research shows the government's move would increase its members' operating costs by 1% a year – which it said was significant when profit margins are typically between 2% and 3% "in a good year". It has urged Sunak to "reconsider a tax hike that will cause further economic distress to a Covid-weakened supply chain".
The bodies also argue that while progress is being made in alternative refrigeration technologies, a viable option has not yet emerged.
"We support the ambition for a diesel-free future for all road transportation, and cold chain hauliers have shown their willingness to move away from diesel especially in smaller vehicle categories," said Cold Chain Federation CEO Shane Brennan. "However, there are not yet robust alternatives to diesel power for all types of food transport, and so imposing this tax change too early will have a punitive economic impact on low-margin businesses that are reeling from the effects of Covid-19."
FWD CEO James Bielby said businesses were already struggling to "stay alive through the worst economic crisis in their history" and needed support to change fleets, "not punitive taxes".
"We believe that a longer transition to the new tax supported by investment incentives presents a real opportunity to turn another nightmare into a major opportunity," he said.
The groups also pointed out what they called the injustice in the government's red diesel exemption for the agriculture sector.
"Given that ministers have been persuaded to exempt farmers from these diesel tax hikes, we cannot accept their justification to impose the burden on the businesses that move food from farm to fork," said BFFF CEO Richard Harrow.
A consultation on the proposed move is ongoing and closes 1 October.