Right now, the nation is shopping as if they're gearing up for Christmas every day. Widespread panic buying has caused aisles of empty shelves and swathes of irritated customers, with supply chains hit by unprecedented demand. So how are the major retailers coping when it comes to availability? We've teamed up with asset checker Shepper to give you an idea of how the supermarkets are stacking up against one another when it comes to keeping stock on shelves.
Stockpiling began to creep up a few weeks ago but demand for hand wash, sanitiser and toilet roll hit feverpitch last week when the UK began to mimic behaviour shown on social media by Australian shoppers. Since then, we've seen other stockpiling classics like canned goods and UHT milk disappear from shelves and, due to supply issues in Italy, pasta has also taken a hit. All retailers have implemented measures to maintain stock levels, but the situation in-store continues to fluctuate. Here's what it looks like at the moment.
With the maximum availability of the most popular items at just over the halfway point since the start of last week, it's not a pretty picture for stock levels at the moment.
Frozen food is still the most widely available of the panic bought items. Having dipped initially, the survey found supermarket frozen aisles were half-full on the 16 March. However, availability has since been dropping steadily as shoppers stock up their freezers, dipping to 22% on the 20 March.
Frozen food was not the only category at its peak availability on 16 March: tinned foods, paracetamol and hand sanitiser were also at their strongest but have all since dived. Hand sanitiser is now back at 0%, although with many distillers now lending a hand with production, the national shortage is set to improve.
Despite strong supplies, retailers are also struggling to keep toilet roll on shelves, with availability at 0% on 20 March, down from 16% on 14 March.
Supermarket availability of UHT milk, which was relatively strong on 14 March at 44%, has plummeted dramatically to just 4%. Similarly, supermarket availability of bleach has fallen from 50% to 16%.
Supermarket rice supplies have bounced back, the data suggests, with availability hitting 25% on 20 March 2020, up from just 13% on 14 March. However, availability of pasta, which is also facing supply problems due to the lockdown in Italy, has hit just 3%.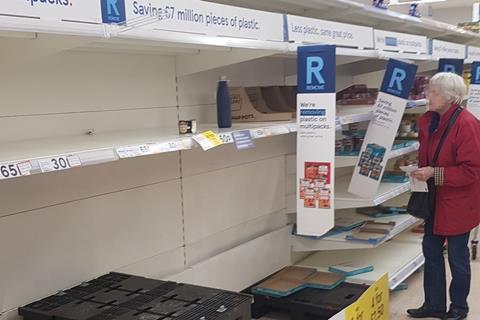 With 20% availability, Aldi currently has better stocks of the panic bought products (above) than the other retailers involved in this test. Out of the big four, Morrisons has the lowest availability of 11%, while Tesco currently has the best big four availability of 16%.
Aldi has the best overall availability of stockpiled items, aided by strong stocks of canned and frozen food.
At 4% availability, Aldi has the best availability of hand sanitiser - the product most-depleted by panic buying - and has the strongest supply of toilet roll on shelves (7%) the second-hardest hit product on our list.
However, the retailer is struggling in other areas like paracetamol and bleach, where it's behind Asda, Lidl and Sainsbury's.
Looking across the UK, supermarket availability of the most popular items has dropped across all UK regions.
The North East is the region with the best availability of 21% on average during 18-22 March 2020, but that's down from 25% on 14-17 March 2020.
Scotland and Wales have remained on par, with availability of 20% and 19% respectively.
The South East and East of England are among the regions with the lowest availability at 16% and 17% respectively. However, stocks are at their worst in London, where availabiltiy has dipped from 17% to just 15% on 20 March.
The North West is the only region where availability has improved, but only by 1% to 17%.
London has the lowest availability at 15%.
Methodology
The data used in this article was collected by the Shepper network across 682 stores in the UK between 14 March 2020 - 22 March 2020. The network were asked to rank availability as empty (0%), almost empty (25%), half full (50%) or full (100%).
This article was originally published on 19 March, but has since been updated to reflect more recent stock level data.