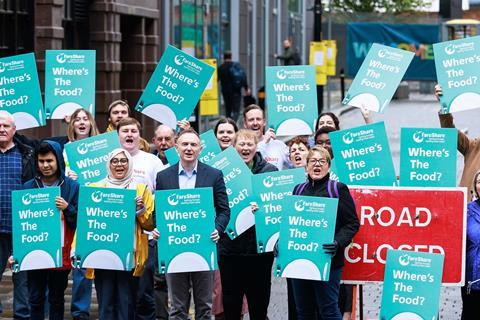 The government has been criticised for claiming a "success story" in food surplus redistribution, while three million tonnes of food each year is going to waste on farms.
Latest figures from Wrap show the total amount of food redistributed last year increased by 27%, or around 29,000 tonnes, compared with 2021.
The data were welcomed by environment minister Rebecca Pow, who said she was "proud" of the efforts Defra was putting in.
However, the UK's biggest food redistribution charity, FareShare, which this week held protests at the Conservative party conference calling for the government to do more to help food surplus redistribution, said the figures were vastly overshadowed by the huge amounts of food being ploughed back into farms across the UK. And it warned while ministers were toasting success, the numbers affected by the cost of living crisis were soaring.
"While it is good that more food is being redistributed, it is still not nearly enough to meet the skyrocketing demand," said FareShare CEO George Wright.
"There are at least 1,500 charities on our waiting list. Every day more and more families are coming to us in need of food as a direct result of the cost of living crisis."
A raft of food organisations have told The Grocer they are facing unparalleled demand because of the cost of living crisis.
Yet figures released at the end of last week by the government's food experts Wrap recorded more food being redistributed across all food storage types, with chilled and frozen foods seeing the highest growth across the last year, at 34% and 20% respectively.
It claimed increased refrigeration and freezing capacity had enabled charities to redistribute a wider range of foods from supermarkets, manufacturers and farms.
For data submitted in 2022 to Wrap, the retail sector remained the largest source of redistributed surplus food (41%), followed closely by manufacturing (32%).
"Surplus food redistribution is a continued success story, with increased items being directed to those who need them," said Catherine David, Wrap director of behaviour change and business programmes.
"While great strides have been made, Wrap urges the food sector to do more. Businesses working in collaboration with the redistribution industry now need to find solutions to other issues which prevent access to harder to reach surplus."
Pow said: "I'm proud of the work Defra has done to support redistribution and cut food waste.
"We continue to support Wrap in its delivery of initiatives to drive down the volume of food going unnecessarily to waste, with funding of more than £2m this year for food waste prevention."
But FareShare, which was joined in protests by food and poverty charities in Manchester outside the conference this week, repeated its calls for the government to provide a £25m, which it said would pay towards the cost of redistributing enough surplus from farms to deliver the equivalent of 100 million meals.
It already has the backing of 130 MPs, including 36 Conservatives, with the charity releasing a poll claiming almost 60% of Tory supporters don't believe the government is doing enough to prevent food going to waste.
"The government has the opportunity to show real leadership and provide funding to get more of this food to people, instead of letting it go to waste," said Wright.
"At a time when community organisations and families need it most, there has never been a better time for action."