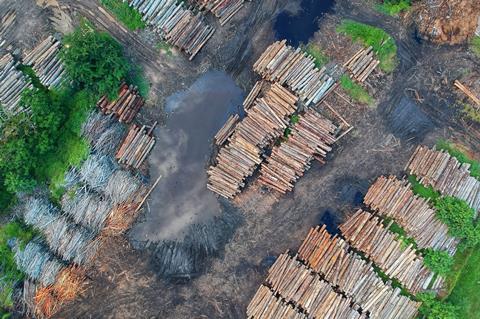 Fmcg brands, retailers and manufacturers are pooling their powers in a bid to end deforestation around the world.
The 17 companies, including Mars, Mondelez, Nestlé, P&G, PepsiCo and Unilever, as well as Tesco and Sainsbury's, today launched the Forest Positive Coalition of Action, with an ambition to "accelerate systemic efforts to remove deforestation, forest degradation and conversion from the key commodity supply chains".
The coalition, which will be led by the CEOs of the companies, will lobby and work with producers, suppliers, traders and governments to advocate "forest-positive solutions". The respective companies' suppliers will be asked to implement the solutions across their operations.
The group, part of The Consumer Goods Forum (CGF), called out palm oil and soy as specific targets of their efforts, as well as paper, pulp and fibre-based packaging that causes deforestation.
"We believe forest protection is a driver of economic growth, not a sacrifice to growth," said Mars CEO Grant Reid. "Forest protection provides healthy ecosystems and supports productive landscapes and resilient communities.
"In the wake of the Covid-19 crisis, we must ensure that efforts to protect forests are part of the global response. This response requires all actors with an interest in ending deforestation and who are committed to being part of the solution to come together."
The CGF has been trying to tackle deforestation for a decade. In a June letter to stakeholders the group said its initial strategy had seen member companies improve their own supply chains through certification.
While progress had been made, "we have found that certification is a tool, but not the comprehensive solution the world needs to end deforestation" the letter noted.
"Certifications create market segmentation. There is still a demand for commodities from converted lands and local economic incentives to continue this practice. This limits our leverage."
The new strategy is focused on "systemic change underpinned by the two pillars of its theory of change – supply chain management and integrated land use approach – developed with significant input from both supply chain companies and other stakeholders" the group said today.
"We are actively changing our model in order to become forest-positive businesses," said Carrefour chairman and CEO Alexandre Bompard. "We are fully committed to engaging supply chain actors, taking action on the ground and working collectively to catalyse change. Multi-stakeholder action is critical, particularly political engagement at the national and regional levels, as is strong support from the investment community."
The launch of the coalition comes after Defra last month introduced proposals to make it illegal for businesses to use agri-food commodities produced on illegally deforested land, along with due diligence requirements in order to enforce it.
Forests cover around 30% of the world's land area, but are disappearing at an alarming rate. According to the World Bank the planet has lost 1.3 million square kilometres of forests since 1990, an area larger than South Africa.
The Forest Positive Coalition for Action members are:
Carrefour
Colgate-Palmolive Company
Danone
Essity
General Mills
Grupo Bimbo
Jeronimo Martins
Mars Incorporated
Metro
Mondelez International
Nestlé
P&G
PepsiCo
Sainsbury's
Tesco
Unilever
Walmart