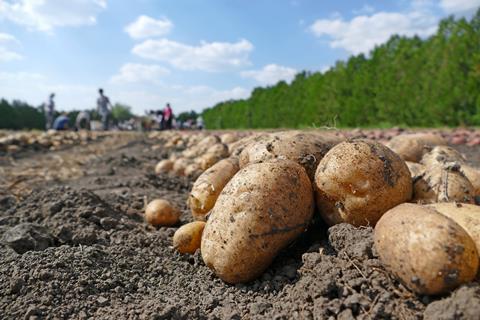 Industry leaders have called on the government to rethink its food strategy as the UK emerges from the Covid 19 crisis, which they claim has exposed "inherent weaknesses" in the system.
The proposals, backed by more than 30 trade groups, claim successive governments have overseen a gradual decline in the UK's self-sufficiency and failed to invest enough in the sector, putting it at a disadvantage against countries with more proactive food strategies.
The document urges ministers to look at a recovery from the outbreak as a "unique opportunity" to remodel the industry, including major investments in the domestic farming, processing and foodservice sectors, which have been hit badly by the impact of the outbreak.
It points to a trade deficit of £24bn in food and calls on the Westminster government to invest in a 'UK Food and Drink' support organisation modelled on the likes of Bord Bia in the Republic of Ireland, and Scotland Food & Drink.
It says the massive turbulence in the dairy and beef sectors shows how the lack of government support has put UK producers at the mercy of market forces and left them vulnerable to a crisis like Covid-19.
The groups claim re-addressing the negative balance of trade in food could bring up to £8bn in benefits to domestic companies as the UK emerges from the pandemic.
They warn the foodservice and hospitality sectors are 'haemorrhaging' viability due to the coronavirus outbreak and may only return to 80% pre-Covid levels until February 2021. However, the UK has failed to "aggressively" support its food suppliers like other countries, they say.
"We will need clarity on timetables for ending restrictions on the hospitality and foodservice sectors," says the document.
The publication calls for a government strategy to look at recovery based around more sustainable and heathier UK diets, as well as a much more proactive policy to avoid food waste.
"Covid-19 has challenged the UK food and drink industry in a once-in-a-generation way," said Michael Bell, executive director of the Northern Ireland Food & Drink Association and co-ordinator of the report.
"Food manufacturers have been working harder than ever to ensure that the nation is fed – with companies having to adapt to an evolving situation at a rapid pace, responding to changes in demand and implementing social distancing measures."
He added: "In the short term we need to protect our capacity in food production, ensuring our domestic farming, processing and foodservice sectors are able to emerge from this crisis intact.
"In the longer term, the government needs to reassess its policy on food and drink. For too long, successive governments have been content to witness continual decline in self-sufficiency in food. The strain that Covid-19 has put on the food chain has exposed the inherent weaknesses in this approach, and we now have an opportunity to reverse that trend."