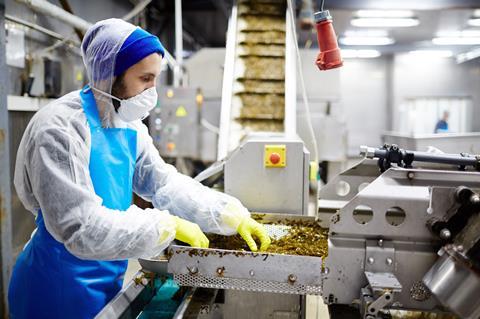 There have been major rows between employers and unions over lack of protection

Upwards of 50 food factories in Scotland have shut their doors since the crisis began

Industry bodies are calling on the government to allow fuloughed staff to take second jobs in food production
Scores of food factories are lying empty, despite the huge spike in demand at retailers, as cashflow problems and fears over worker safety have forced businesses to shut their doors.

Food and drink leaders are calling on the government to urgently ramp up financial support for the industry - and bring clarity over coronavirus protection measures - after warning more factories would come under threat with a surge in absenteeism predicted.

"The feeling is the food industry appears to have ridden the first wave of shock and responded to the panic buying," said one supplier source. "The big issue now is keeping the factories open for the long haul."

Industry sources are reporting absenteeism rates in factories ranging from between 10%-20% in the past week, but that is expected to rise. "Once that level starts to get to around 25% then, for many production lines, things start to get critical," said a source.

Another big factor is a major row between employers and unions, with calls for walkouts over lack of protection.

This week around 80 GMB members downed tools in a Swindon M&S warehouse and Bakkavor's west and north London prepared food plants were called on to "radically reorganise production methods" by the union to adhere to social distancing rules.

"GMB recognise that this reorganisation will slow down the production process but like in the supermarkets at the other end of the food chain there is no alternative," said Andre Marques, GMB London region officer.
"Union concerns over safety are legitimate and of course as the rate of infection grows and we unfortunately see more cases and more deaths, people are understandably getting more scared and it's compounding the problems we are facing," said another supplier source.

"Making sure we have constructive and pragmatic conversations with the unions is very important as we look at business contingency and how we keep factories open given the expected fast rise in absenteeism."

Another industry source added: "Workers have to feel safe. But at the same time, you could argue it's a good time for the unions to put the squeeze on employers, they have a huge amount of power right now, given the staff situation."

Food and drink leaders in Scotland said upwards of 50 food factories in the country, a heartland for food production, had shut their doors since the crisis began. Trade bodies including Scotland Food & Drink, the FDF and the NFU have written to MPs "pleading" for them to recognise the vital role played by food processors.

"We have had many examples of MSPs putting pressure on businesses to close," said Scotland Food & Drink CEO James Withers. "It's absolutely essential we get support from government to enable these factories to stay open, "It's fair to say that since this crisis began we have been informed of upwards of 50 businesses that have closed their factories.

"This is because either they can't adhere to the safety rules or because the loss of income has made them unviable.

"The big danger is that as we start seeing higher levels of staff absenteeism, many more will come under pressure."

Among key issues being discussed by industry bosses and government this week include fears that, like other businesses, food companies had not received promised financial help, by way of loans from the banks, quickly enough.

Industry bodies are also lobbying the government to allow rules of furloughing of staff to be changed so staff that are stood down would be able to take second jobs working on the food production line.

"There's a huge resource of people sitting idle, that could be redeployed to help in this staffing crisis," said another source.