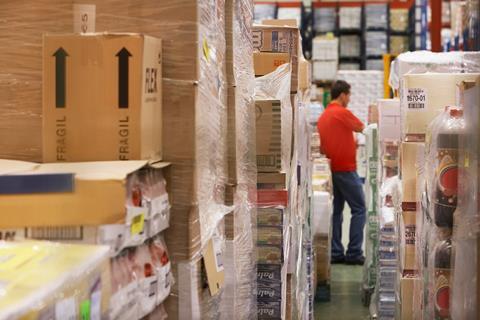 UK food manufacturers are holding onto thousands of pounds worth of excess stock as fears over the supply chain crisis remain.
New reseach found that on average UK food suppliers were overstocked to the tune of nearly £80,000 and could secure "significant" additional revenue if they freed up stock that piled up last year due to disruptions to supply chains, according to analysis by inventory management tech firm Unleashed.
However, companies are still reluctant to sell too much stock as they fear a reprise of the supply chain crisis that affected global trade for over two years, said Cold Chain Federation CEO Shane Brennan.
"I think that the real experience of the past three years has been a real struggle from food manufacturers to match their production patterns to demand," Brennan said.
"There was a major drive to increase inventory and lengthen supply chains in the early years of Brexit, but Covid saw major sell through or stockpiles and challenges with replenishment, especially given soaring production costs, labour shortages and knock-on effects of trade disruption."
Food & drink businesses make money when stock is moving, which means holding extra stock can ramp up warehousing costs and massively impact their cash flow.
Brennan warned firms looking to sell out stock in exchange for a quick capital injection to keep close attention to their inventory levels as global supply chains were still partially vulnerable.
"As we look to an uncertain harvest, new Brexit controls and uncertainty on inflation, we would be encouraging businesses to focus on the resilience in the supply chain for a bit longer and not expose themselves to the risk of possible supply chain interruptions just yet."
While demand for warehouse space is "softening", food & drink manufacturers are more prone to following the 'just in case' model after seeing how unpredictable consumer demand could be during the lockdowns, added UK Warehousing Association CEO Clare Bottle.
The UK food manufacturing sector was found to be holding an average of £76,800 in overstock, according to Unleashed analysis. The beverages sector held about £47,500 in extra stock.
Federation of Wholesale Distributors CEO James Bielby said the situation for wholesalers was improving now after stock levels spiked last year. But he advised businesses that "holding onto stock for as long as possible is beneficial in an inflationary market".
"Maintaining those higher stock levels now could result in higher margins," Bielby said.
Companies trading long shelf-life goods like canned and dried products are poised to benefit more as they can order less stock over the next year while their current stock keeps rising in price in line with inflation.
But for those whose cash flow was seriously impacted by the supply chain crisis and the added costs of piled-up stock, there was now an opportunity to secure "significant" cash windfall through tighter stock control, the Unleashed analysis showed.
"Given the current economic conditions it's no secret that brands are being forced to free up some cash where they can," said Alex Townson, head of outsourced supply chain at logistics & supply chain specialist YF. "The good news is we are seeing that the demand is there."