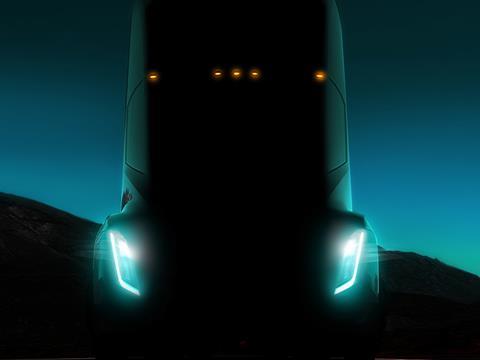 Seven years, a string of humiliating trips to the High Court and six Defra ministers later, the Tories' Clean Air Quality Plan finally landed last week with a thud.

"It's important we all gear up for a significant change," warned Defra secretary of state Michael Gove as he unveiled on Wednesday the government's plans to address toxic air clogging up UK towns and cities - headlined by an outright ban on the sale of new petrol and diesel vehicles by 2040.

It was about time for a bold move. Ministers had tiptoed around the city smog for years, hauled before judges no fewer than three times by environmental lawyers appalled by their poor record on air pollution.
How diesel became the devil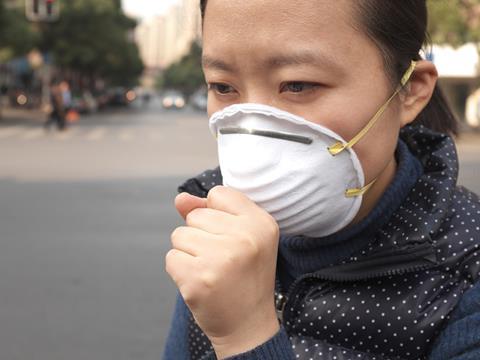 1997 : The government signs up to the Kyoto Climate Change Treaty committing to cut its carbon emissions by 5% each year until 2012
2001 : Chancellor Gordon Brown slashes road tax on all low-carbon vehicles giving the public an incentive to switch to diesel (which produces 15% less CO2 than petrol)
2010 : The Environmental Audit Committee finds unacceptable levels of air pollution in the UK and recommends urgent measures to reduce diesel vehicles on the roads. The UK is found in breach of EU laws on safe levels of nitrogen oxide (NO2)
2013 : Environmental lawyers ClientEarth successfully sue the government for failing in their legal duty to tackle air pollution. Judges order the government to take action. They will haul ministers before the High Court twice more (in 2016 and 2017) before the plan is delivered
2014 : New emissions standards for HGVs come into force requiring all new vehicles to use Euro VI, the cleanest form of diesel.
2015 : The US environment agency discovers that German manufacturer Volkswagen Group had deliberately distorted test results to hide the real levels of NO2 pumped out by its cars. Audi is also implicated in the scandal. Calls to ditch diesel grow far stronger
July 2017 : After being hauled before the High Court twice more by ClientEarth for repeated delays, the government finally releases its Clean Air Quality Plan led by Defra minister Michael Gove.
October 2017 : The London T(toxic)-charge comes into force. Cars, vans and HGVs that fail to meet minimum emissions standards will face a £10 charge daily
September 2020 : London's Ultra Low Emission Zone could see HGVs and vans using older forms of diesel charged up to £100 per day. Five other UK cities (Birmingham, Leeds, Nottingham, Derby and Southampton) are expected to roll out their own Clean Air Zones by a similar date
2040 : By this year all sales of new diesel and petrol vehicles using 'conventional' diesel and petrol will be banned
But reaction to the plan's headline grabber was split. Petrolheads baulked at the idea of ditching combustion engines for electric in less than three decades, threatening one of the UK's most lucrative earners. Automotive industry bodies warned average earners could be left without a set of wheels. And while environmental campaigners were (unsurprisingly) chuffed at the ban, they warned it shouldn't act as a "smokescreen" for action to address dirty diesel right now.

Fast-talking Gove insisted he had plans for the here and now too. Not least a £255m Clean Air Fund to "enable local authorities to deal with the challenges" of toxic fumes in their districts via a series of "imaginative proposals", with more cash likely to be made available in the Autumn Statement.

For food & drink companies relying on diesel and petrol to ship goods from A to B, these proposals undoubtedly spell big change. Both in the short term as the government clamps down on all but the cleanest forms of diesel, and in the long term as it phases out both diesel and petrol once and for all. So, are they ready?

An overwhelming 98.8% of the HGV fleet carrying food & drink across the UK currently relies on diesel, estimates Christopher Snelling, the Freight Transport Association's director of national and regional policy. Not only is it more economic, using around 15%-20% less fuel than petrol to travel the same distance, it packs the power needed to shift a 44-tonne articulated lorry packed with groceries up and down our motorways.
But as the government battles to meet its EU mandated target to slash nitrogen oxide (NO2) by 42%, it's clear diesel (the culprit behind a third of these emissions) will fall firmly under the spotlight. Eighteen per cent of toxic diesel emissions are pumped out by the HGVs that are often favoured by the food industry, says Defra, despite making up only 5% of total traffic, and so it's little surprise to see a clampdown on these lorries feature heavily in the government's plan.

A national HGV road tax could be increased to encourage more eco-friendly vehicles, the 100-page document sets out, while London will see the introduction of a city-wide Ultra-Low Emission Zone by 2020 that could result in HGVs and LGVs using anything but Euro 6 (the cleanest form of diesel) charged up to £100 per day all the way from Paddington to Whitechapel.

It won't only be the capital that introduces controversial clean air zones, either. Similar approaches have been touted in five other major cities with poor pollution records - with Birmingham, Leeds, Nottingham, Derby and Southampton expected to roll theirs out by 2019. And according to the plan, all 418 of the UK's local authorities will be empowered to do the same if they can prove there's no other way of tackling dirty diesel.

Significantly, the government framework for clean air zones ensures HGVs and light goods vehicles will be hit by the extra cost of any of these zones way ahead of cars.

That's "counterproductive" believes Snelling. "We have no choice but to use diesel. For technological reasons you can't use petrol to power heavier vehicles, whereas a driver of an old diesel car could buy an equally old petrol car and be compliant. For HGVs and vans you don't have that option."

Widespread public support for clean air zones means any u-turn looks unlikely, though, and the only way to avoid these extra costs in the short term will be for businesses to rapidly update their fleets to use Euro 6 diesel.
For logistics operators running high-mileage fleets replaced every two to three years, this might not pose a major problem. From 2014, all new trucks had to run on Euro 6 to comply with emissions standards anyway and so "selfishly it's not really a problem to us" admits David Seaton, fleet engineer at the NFT Group, one of the UK's biggest chilled food distributors. "But for a lot of companies operating inner city and lower mileage it will have an effect. It will cause a lot of companies a lot of hardship."
"Incredibly disruptive"
As soon as you look at anything specialist, such as refrigerated trucks or vans delivering bread, companies could hold on to vehicles for as long as 10 years, explains Snelling. Those companies will "need to start planning into their finances and budgets the fact that they need to purchase or lease an awful lot of new vehicles. For small businesses on a tight budget with limited access to finance that's incredibly disruptive, particularly as it's not a universal impact."

Any short-term disruption is likely to pale by comparison with the long-term impact of ditching diesel and petrol, though. Michael Gove's move to phase fossil fuels out in a little over two decades might have come as a shock to some but it follows a spiralling clampdown on combustion engines. If 'Dieselgate', the 2015 emissions scandal in which Volkswagen/Audi was discovered to be deliberately distorting test results for its diesel cars, showed the pressure the industry is under to comply with regulation, the direction of travel moving forward is even more onerous, with French president Emmanuel Macron pre-empting Gove and committing to the same 2040 deadline for diesel and petrol last month, while Germany's chancellor Angela Merkel has gone one decade further with plans to cut out the fuels by 2030.

For now the government's deadline doesn't extend to HGVs, but it will capture the huge number of smaller delivery vans used by the trade, including those used for consumer drop-offs. Thanks to the online retail boom, these vehicles are the fastest-growing traffic segment in the UK, according to a 2017 report commissioned by the RAC Foundation, with 70% growth in road miles over the past 20 years, compared with only 5.5% for lorries.

HGV operators trunking up and down our motorways shouldn't consider themselves off the hook either, warns Applied Acumen CEO Richard Shipperbottom. "By far the biggest impact the grocery logistics industry should consider is the impact on brand value," he says. "Your dirty-engined, diesel-chuffing, environment-murdering van is chugging past a newly outraged public who right now are on the verge of being nudged to despise anything diesel. This isn't so bad today, but how much are you willing to bet you can outrun the speed of change in public opinion?"
So what are the alternatives?
For many in food & drink logistics, natural gas is emerging as the strongest contender. "Gas can be cleaner than diesel on pollutant emissions and opens the door to using biomethane, which has a very low carbon footprint and is made from recovered waste foods and the like," says Robert Evans, CEO of low carbon consultants Cenex and chair of the UK Electric Vehicle Supply Equipment Association.
The battle to create the first fully electric HGV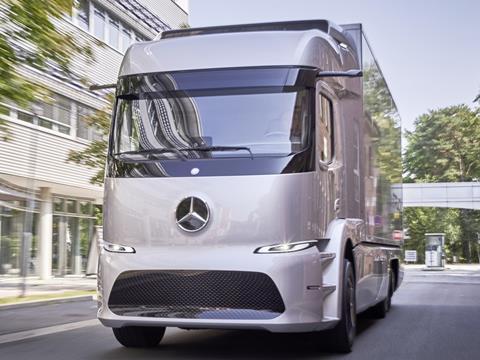 Mercedes was first off the mark. Twelve months ago the manufacturer unveiled its bold Urban eTruck, a fully electric heavy goods vehicle capable of carrying 26 tonnes and covering a range of 124 miles before its next charge.
Powered by three lithium-ion battery packs attached underneath its cargo, the gleaming silver prototype had enough charge for a "typical daily delivery tour" said Mercedes-Benz, with successful trials roaming around the company's home city of Stuttgart since early 2016.
But rival Tesla wasn't far behind. Chief executive Elon Musk confirmed in April that the US firm would unveil its own electric articulated lorry in September. Little is known about the details, with only a foreboding teaser picture released by Tesla so far, but Musk has promised the vehicle will be "seriously next-level", with his team having done an "amazing job".
What he didn't mention, however - and Mercedes has also been quiet on this point - is the likely price of these next generation HGVs. Suffice to say they're likely to be eye-watering, with prices for the (significantly smaller) Tesla S electric car starting at around £60,000.
With production of the Mercedes model expected to start from 2020, all will soon be revealed. And that's when the battle for the first commercially viable electric HGV will be well and truly on.
It also falls conveniently outside the government's definition of 'conventional' petrol and diesel vehicles, leaving it safe post-2040. As a result, "a number of hauliers have spent quite a lot of time and effort making serious analysis in relation to natural gas", including Müller Wiseman and Arla Foods.
"Insurmountable" challenges?
Only last week upmarket grocer Waitrose announced plans to switch more of its trucks to biomethane after research showed they emitted 84% less carbon dioxide than diesel. "As well as being quieter, every long-distance lorry we switch from diesel to gas saves as much CO2 as taking 70 cars off the road," said JLP general manager of transport Justin Laney.

Others in the industry are more hesitant. Compressed gas doesn't "have the tank capacity to be able to deliver the mileage we require" says Seaton of his larger freight-carrying fleet. "If there becomes mass production where a gas vehicle is capable of doing 44-tonne on a long distance trunking operation, then they become viable for us."

An even bigger area of contention is whether electric trucks and vans could soon be delivering to supermarkets. Though there are already 105,000 electric cars zipping up and down our roads, the extra battery life required by larger vehicles has made progress there slow, despite a high-profile battle between Tesla and Mercedes to produce the first fully electric truck.
Use of small electric vans is growing, with about 4,500 on UK roads as of this month, according to Next Green Car, and they're well suited to grocery, believes James McKemey, head of customer operations at POD Point. They're particularly suitable for companies who "do the same deliveries very regularly so journeys are very well known by a fleet operator", allowing battery life to be more easily factored in. It explains why Sainsbury's has been using a small fleet of three-and-a-half tonne electric vans for years in London.

But for bigger vehicles "the big elephant in the room is their range," adds McKemey. "Even trying to get enough battery into a car at a commercially viable rate has been a real challenge, and when you look at HGVs you're going to need one hell of a battery as they lug heavy loads and can have extremely high mileages, spanning multiple countries."
"How much are you willing to bet you can outrun the speed of change in public opinion?"
Then there is the question of charging up. For vehicles travelling long, varied distances, with more than one driver and very little downtime, this will require a lot more thought, he believes. One option will be for businesses to invest in their own Rapid Charge points that can fill up a battery in half an hour - but at £30,000 a pop, these don't come cheap.

None of these challenges are "insurmountable," insists Evans, given sufficient time, investment and technological breakthroughs. But a switch from diesel to zero emission alternatives won't happen overnight.

Michael Gove might be enjoying a rare moment of reprieve from his voracious critics thanks to such a bold and long-awaited move on diesel, but he'll need to be patient too. Powered by diesel for decades, the food & drink industry isn't about to go cold turkey just yet.