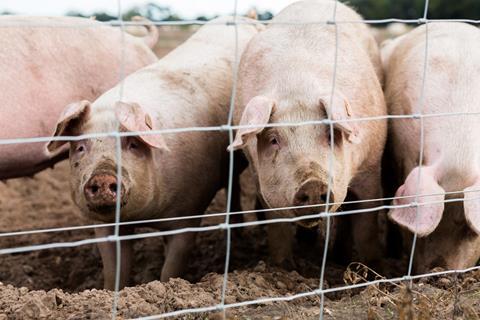 Vet strikes in Northern Ireland this week are threatening production of pigs in blankets and other festive foods.
Vets and meat inspectors working for the country's farms, processing plants and ports have been protesting since 30 October over what trade unions Nipsa and GMB have described as a "derisory" pay award across the nation's civil service.
The walkouts have led to a halt in slaughtering due to the lack of official personnel in abattoirs.
The British Meat Processors Association warned this could potentially disrupt the production of Christmas favourites such as ham and pigs in blankets.
A spokeswoman for the group confirmed on Thursday "the pig and poultry plants are working at much lower capacities – about 50% as far as we can tell". It meant "preparations for Christmas will be hindered", she added.
While production has been heavily curtailed by this week's industrial action, there has been emergency veterinary cover for some pork and poultry plants and some sourcing of meat for cutting from the Republic of Ireland.
This has kept meat supplies rolling in Northern Ireland, according to the BMPA.
However, supply chains from GB to NI have been particularly disrupted by the walkouts. Vets working for Northern Ireland's state-run Veterinary Service Animal Health Group perform vital checks on animals and animal products entering NI from GB, in addition to monitoring the operation of abattoirs and certifying some meat exports.
Industry sources confirmed this had hit many British suppliers who regularly use the Windsor Framework's 'red lane' to ship meat and poultry goods across the Irish Sea border. Many have decided to bypass NI ports and go through Dublin, where they face EU SPS checks instead.
The protest at Foyle Meats, Campsie this morning. These workers are recognised as being vital to the food supply chain yet are afforded only derisory pay awards by the government. They have a simple ask - #fairpaynow pic.twitter.com/byhhvqVXjC

— NIPSA (@nipsa) November 2, 2023
The Chartered Institute of Environmental Health (CIEH) pointed out the strikes also affected some products that are destined for the Republic of Ireland or have an uncertain final destination.
CIEH said in a statement it was "deeply concerned about the impact of the industrial action by government vets in Northern Ireland on the food supply chain and public health".
"We are concerned that the strike will exacerbate the existing shortage of official veterinarians in Northern Ireland, which has been a challenge for the implementation of the protocol.
"CIEH has been calling for environmental health professionals to be involved in carrying out SPS checks, as they have the relevant skills and experience to do so. We believe that this would help to ease the pressure on the vets and provide a more resilient and flexible workforce for the food sector."
CIEH said it recognised the "vital role performed by vets who are essential to the food chain and trade flow" and that it wanted to work with them to deliver "effective and efficient SPS controls".
November 3, 2023
The veterinary professionals working for the Department of Agriculture, Environment and Rural Affairs (Daera) are protesting over a pay award of £552 to all civil servants in Northern Ireland for 2022/23, when inflation was above 10%.
It is not clear whether further strikes will take place, considering that Stormont is still suspended and negotiations slow, but the BMPA warned there was "reported to be some support amongst the public".
There was a "real and growing crisis across Daera", added Nipsa general secretary Carmel Gates, "with problems recruiting and retaining staff in VSAHG" due to historically low pay.
Neil Johnston, director of the Northern Ireland Retail Consortium, said: "Northern Ireland, like the rest of the UK, has a robust food supply chain. The agri-food sector and our food retailers are important parts of that chain.
"The prospect of disruption is very concerning, however as recent years of Covid and the costs crunch have shown retailers are adept at dealing with disruptions and have contingency plans in place so they can minimise any potential short-term impact on supplies to customers and stores."
"Supply chains are complex. They cannot be turned on and off like a tap," said Nichola Mallon, Logistics UK's head of trade and devolved policy.
Any disruption to slaughtering would also raise issues around animal welfare, the BMPA suggested, particularly in the pig sector – raising fears of another pig backlog on farms, similar to the issues that almost brought the industry to its knees during the autumn and winter of 2021/22.
Day 4 on the picket line at Belfast Port and the members and supporters are steadfast in their resolve and their message remains the same - #fairpaynow! pic.twitter.com/UJyeu9uTqp

— NIPSA (@nipsa) November 2, 2023
Animals could also become too big and 'out of scope' for supermarket shelves, resulting in farmers unable to sell their livestock, the BMPA warned. And, because of the numbers of animals involved, "it could take months to recover from the loss of those five production days".
One major Northern Irish meat supplier told The Grocer the situation had been exacerbated by a "lack of political leadership" caused by the power vacuum at Northern Ireland's assembly at Stormont, which remains suspended due to the DUP's opposition to post-Brexit border arrangements.
"With Stormont still not sitting, this will inevitably end up back in Westminster," the BMPA said. "So, on behalf of producers and processors, we would urge government to step in to engage with all parties, draw up some emergency plans and, ultimately, help to settle this dispute."