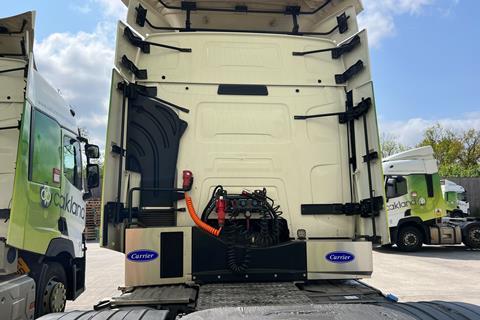 Supply chain specialist Oakland International is now operating with a 100% fully electric distribution trailer fleet.
The company said it was now able to deliver customers' chilled and frozen goods on a fully electric fleet after having invested in a sustainable technology that can be fitted to the tractor units used in its transportation fleet.
Oakland said it had "undertaken a major investment" in transport refrigeration company Carrier Transicold's Eco-Drive technology, which converts power from the truck's own engine into electricity.
This is then used to run the refrigeration units mounted to the company's temperature-controlled trailers.
This brings Oakland one step closer to becoming "the first major business within the sector to achieve net zero", it said.
"Having carried out several trials with Carrier Transicold, it offered a real benefit to move in this direction, not simply for fuel savings, but it also delivered sustainability benefits through further reductions in our carbon footprint," said Oakland's distribution director Martin Pearson.
"We are now 100% electric when operating our refrigerated trailers to deliver customers' chilled and frozen goods. This underpins our goal to become 100% carbon neutral, with Oakland Distribution amongst the first in the industry to operate a fully electric refrigerated trailer fleet."
Temperature-controlled
Oakland Distribution specialises in transportation of temperature-controlled goods for an array of grocers including Sainsbury's and M&S.
Carrier's technology was retrofitted to the logistics company's existing Renault tractor units, as well as mounted to new vehicles entering the fleet.
The system reduces carbon emissions and lowers fuel requirements by using a hydraulic pump connected to the truck engine's power take-off, which drives a generator that delivers the electrical power required to run Oakland refrigeration units.
"We are delighted that Oakland Distribution has invested in our Eco-Drive technology, which allows the business to both retrofit their existing vehicles and fit new tractor units entering service with the system," said Carrier's UK & Northern Europe MD, Scott Dargan.
"The electrification of its trailer fleet will provide instant fuel and emissions savings and we look forward to seeing the results."
Overhauling the country's logistics sector is one of the key underpinnings of the government's net zero targets. However, the industry has previously warned that it needed substantial support and infrastructure investment from government in order to make the transition.