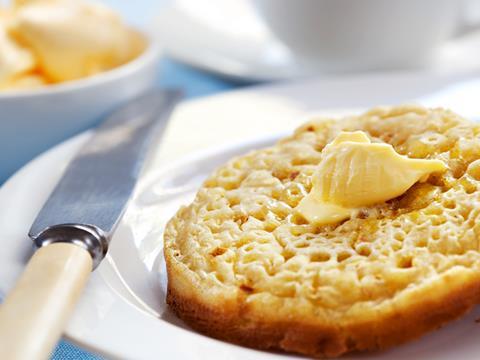 Crumpets have emerged as the unlikely next victim of the ongoing CO2 crisis, with Warburtons warning of severe supply problems as the Europe-wide shortage of carbon dioxide continues.
Warburtons has been forced to suspend production at three of the four UK bakeries that produce its crumpets due to shortages of CO2, which is used in packaging to extend the shelf life of the products.
One of those bakeries was set to resume operations having sourced a "small supply" of the gas, but production was still "significantly under capacity", Tearmh Taylor, corporate and consumer affairs manager at Warburtons, told The Grocer. It meant the company was producing "nowhere near" the 1.5 million crumpets a week that it usually makes, she added.
"We are already experiencing shortfalls and this will only continue to get worse unless supply is returned to normal very soon. The commercial impact of this situation is already being felt and with no end in sight it's difficult to assess the long-term impact which will undoubtedly be felt by many."
The shortages have already hit supermarkets, with nine-packs of Warburton's crumpets now out of stock nationally in Sainsbury's and Warburton's Giant Crumpets currently out of stock in Ocado [Brandview 28 June 2018]. Tesco and Asda also have limited stock of some of the brand's crumpet lines, their websites suggest.
'Government must act'
It comes as food and drink manufactures have renewed calls for the government to act amid ongoing uncertainty over how long the crisis could last, with suppliers left in the dark by CO2 producers.
"We are now nine days in to this situation and there is a growing sense of frustration at the lack of a co-ordinated response," said one industry source. "CO2 suppliers are not doing a good job communicating with the companies they supply, but we have also had a wall of silence from the government."
The UK's biggest soft drink and beer suppliers have so far insisted supermarket supplies remain unaffected, but time was "running out" to source more CO2, another source suggested.
"We're not going to run out of food and drink, but we may very well run out of beer if this continues," the source added. "The government needs to do much more to get production back up and running."
Dave Lewis speaks out
However, Tesco CEO Dave Lewis said he believed it was up to the industry to solve the crisis because the government would take too long to react.
"I think if we were to wait for the government to co-ordinate things it would take too long. That's not the answer."
Lewis claimed Tesco's availability was proving resilient, although he admitted suppliers of poultry and craft beer were among those hit.
"We've had to switch around a few beers to response to shortages, but I am happy with the way we are coping," he said.