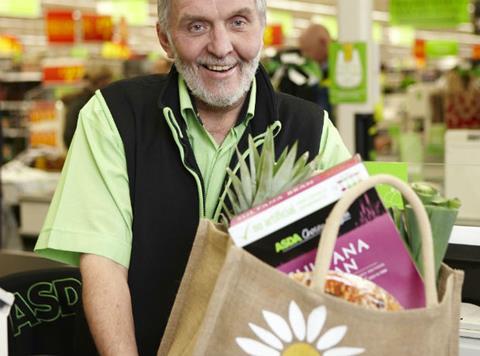 Asda is set to scrap all 5p single-use carrier bags as part of a wider crackdown on plastic.

As part of proposals announced today, the retailer has promised to cut 10% of plastic from its own-brand product packaging within the next 12 months and will stop the use of the single-use carrier bags by the end of 2018, following a similar move by Tesco last year.

However, the Walmart-owned supermarket said it was opposed to the idea of a bottle deposit return scheme (DRS), one of the key weapons against plastic being explored by the government and which has been backed by other retailers, including Tesco, Iceland and The Co-op.

Asda said it believed the scheme would drive up costs for retailers and hit poorest shoppers hardest by making products more expensive.

Instead, the retailer has focused its plans on alternatives, such as introducing a "zero profit" reusable coffee cup for customers, and removing all single-use cups and plastic cutlery from its offices in 2018 as well as its stores and cafés by the end of 2019.

CEO Roger Burnley said Asda was working in partnership with leading UK experts in packaging technology at the Leeds Beckett University Retail Institute as well as one of Asda's biggest UK suppliers, ABP, to develop new alternatives to plastics and more recyclable materials.

It plans to create the Asda Plastic Ideas Hub, open to both industry and the public, offering a £10,000 award for every scaleable, workable idea that Asda takes up to tackle issues such as alternatives to plastic film.

In stores, Asda will swap polysterene bases in its pizza packaging for cardboard, removing 178 tonnes of plastic, and switch 2.4 million plastic straws used in its cafés each year to paper.

It will also change coloured drinks bottles to clear plastic, leaving 500 more tonnes of plastic available for recycling.

"I want Asda's customers to know that they can trust us to take the lead on the issues that really matter to them," said Burnley. "So we have challenged ourselves to look at what more we can do to reduce the amount of plastic in our business and within our sector as a whole.

"We have an established track record in this area already, having committed to making sure that all our own-brand packaging is recyclable by 2025.

"We have taken steps such as reducing the amount of plastic in our water bottles and removing harmful microbeads from all our own-brand cosmetics.

"However, where we are able to go faster and harder to remove avoidable plastics from our products, we will."

The war on plastic has become one of the key battlegrounds among supermarkets this year amid a growing groundswell of anger from politicians, lobby groups, national newspapers and broadcasters.

Last month frozen food specialist Iceland vowed to become the world's first major retailer to eliminate plastic packaging from all its own-label products within five years, while Waitrose has pledged to not sell any own-label food in black plastic beyond 2019. Last month Tesco also announced it was trialling plans for the rollout of a DRS system with its suppliers.