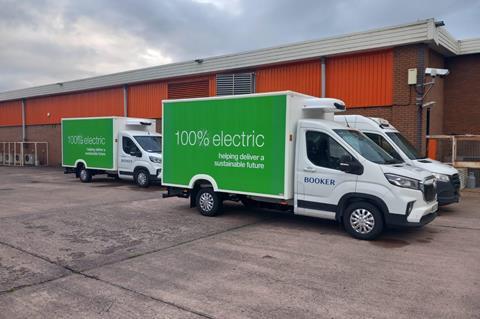 Booker has begun trialling deliveries with electric vans as part of its mission to operate a zero emission van fleet by 2030.
It has kicked off the pilot with five electric vehicles, delivering to retailers and caterers from its Kettering, Brighton, and Stoke branches.
The wholesale giant said it was "a vital step" in transitioning vehicles to electric and "securing a clear pathway" to ensure it has the infrastructure in place to deliver on its commitments.
It has also carried out surveys across the rest of its 190-strong depot network to establish their electric vehicle charging capabilities.
"Although this still is very much as trial, the results have been very encouraging and are proving a popular addition with both colleagues and customers," said a Booker spokeswoman.
Amid its sustainability focus, Booker also completed the third rollout of solar panels at its Makro cash & carry in Exeter in March. It marked its first self-funded solar installation and is expected to generate 25% of the branch's electricity requirements.
It generates solar energy at its Wimbledon branch and its Best Food Logistics site in Royton as well.
Last month, the wholesaler also announced it was increasing the number of beehives at its Hatfield distribution centre and is now offering beginners' beekeeping courses to colleagues.