Until now, carbon footprint labelling attempts have fallen flat in grocery. Now companies such as Oatly and Quorn are trying to forge their own path
It had all the makings of a landmark move. In 2007, Tesco made one of its boldest ever commitments on climate change: to put a carbon footprint on all its products. The move set other companies on the same path. PepsiCo, Innocent and Boots joined a government-backed pilot scheme, which aimed to give everything from sausages to shampoo a carbon dioxide equivalent (CO2e) value. "Ultimately, the aspiration is that everything you can buy will have a carbon measure with it," the Carbon Trust told The Grocer in 2008 as the first numbers started to appear.

Four years and a few hundred product footprints on, and Tesco kicked the project into touch. Others followed suit. The process was too costly and time-consuming, and too few other brands were doing the same to give it "critical mass" Tesco said.

That was enough to stop carbon footprints in their tracks. Until now, that is. Over the past few months, there has been a resurgence of brands - predominantly from the plant-based arena - showing interest. The likes of Quorn and Oatly clearly feel calculating carbon is worth the time and investment, if they can demonstrate a lower footprint than their rivals.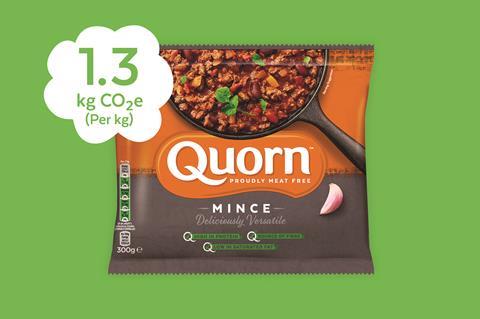 Now bigger brands are weighing up the benefits. Nestlé recently said it was looking at how to highlight the products with the best environmental footprints, while carbon labelling is also understood to be on the radar at Premier Foods. "We've been having a real uptick in this area [and] serious conversations on [carbon] labels," says Hugh Jones, MD, advisory, at the Carbon Trust.

And though none of the major supermarkets are resuming carbon labelling, the issue is firmly on their radar as the government pledges to cut UK carbon emissions to 'net zero' by 2050. Many are setting out to better that target. Sainsbury's this month promised to be a net zero carbon business by 2040 (not including emissions from its suppliers). The likes of Co-op and Tesco have emissions targets including suppliers, with the latter demanding reductions of 7% across agriculture and manufacturing this year. Tesco is also running a scheme to reduce the environmental impact of the average shopping basket by 50%.

So can carbon labelling finally find its feet? And, if so, what direction will it take?

There are a number of reasons carbon labelling might prove easier to implement this time around. First, the costs aren't as high as they were in the initial stages. David North, who worked with Tesco CEO Sir Terry Leahy on the carbon footprint initiative as corporate affairs director, says the price per analysis has been "dramatically reduced" over time. Mind you, it wasn't cost that caused its untimely demise, he says, but the departure of Terry Leahy, who was succeeded by Philip Clarke in 2011. "I also feel it was 10 years ahead of its time," adds North.

Which brings us to the second development in favour of carbon labelling. Ten years ago there was a failed global deal on climate change, scandals surrounding climate scientists, and a financial crisis that sparked the expansion of the discounters. The environment wasn't high on the list of priorities. Plus Tesco wasn't convinced its labels actually influenced purchases. But this is 2020 - a time of Extinction Rebellion and Greta Thunberg. Consumers are ever more aware of the environmental impact of food, which is estimated to account for around 25% of greenhouse gas emissions. One in two UK consumers say environmental sustainability plays a part in their decision to buy meat-free, according to a YouGov survey last year. Meanwhile, 46% understand reducing meat consumption limits their personal emissions.
How life cycle analysis works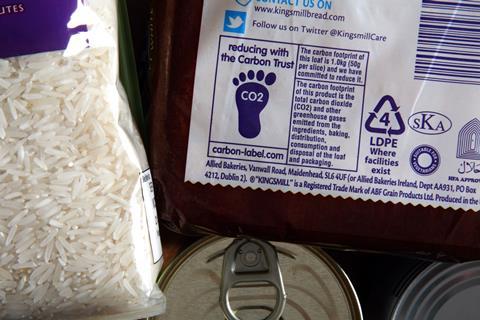 Each analysis ideally incorporates the greenhouse gas emissions (usually in the form of carbon dioxide equivalents, or CO2e) from 'cradle to grave'.
So that means from the field (think fertiliser use, energy needs, ammonia and methane emissions) through transport and processing, then on to the shop (refrigeration, for example) and the consumer (how it's cooked, potential wastage and disposal of the packaging).
The cost of doing this has tumbled for many products, due to better tech and the availability of richer data.
The analyses are self-funded, allowing the buyer to play with the inputs and the boundaries.
The results aren't often publicised, but can demonstrate a commitment to low carbon emissions.
Meat production concerns
If Tesco launched a label today the public would embrace it, says North, who is now group executive at Pick n Pay in South Africa. "I think they'd look at the footprint of a steak, maybe pick up one beside it with a lower footprint, or decide that the carbon 'price' of steak was just too high and buy something else," he says. The steak example is an apt one. Because environmental concerns over meat production are another key driver of the carbon footprint renaissance. At the forefront of the movement are plant-based brands, eager to point out their benefits over animal products. Oat milk brand Oatly, for example, put carbon footprints on its UK packaging last spring. The brand claims its original oat drink results in emissions of 0.31kgCO2e/kg, or around a quarter of that from cow's milk.

In January, Quorn announced it would put a carbon footprint label on 30 of its bestselling products. Mince will come with a 0.16kgCO2e/serving sticker, making its footprint 90% lower than that of beef, while on sausages the figure will be 0.33kg. This is not a marketing ploy, Quorn says. "We think [labelling] is the right thing to do and we are starting from a good place," says UK marketing director Alex Glen.

Plus, there is a clear business benefit for brands. "They wouldn't put these labels on if it wasn't a competitive advantage," says Cyrille Filott, global strategist for consumer foods at Rabobank. Indeed, US brand Beyond Meat points to its carbon footprint - independent research found it was far lower than that of beef, which produces 99.5kgCO2e/kg per kilo, as well as chicken and pork - as a key selling point.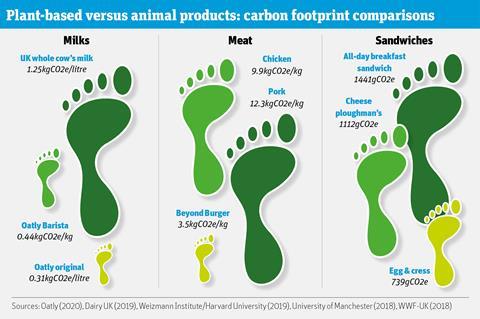 The benefits of carbon calculations have the potential to go beyond plant-based, though. Indeed, they could even extend to meat, especially UK produce. That's not because local food always has a lower footprint (it doesn't). Rather, it could offer a selling point against the cheap, unsustainable imports commentators fear will flood the market in the wake of Brexit.

The difference in carbon emissions could be staggering. Indeed, high-impact beef producers use 5,700% more land and create 1,000% more emissions than low-impact ones, according to research by Joseph Poore at the University of Oxford. And that could sway shopper decisions. One study by the YouGov-Cambridge Centre for Public Opinion Research found people would pay a premium of almost 5% (23p on £5) for a steak that was labelled as producing 20% less carbon.

Jason Barrett, founder of carbon insights platform Mondra, reiterates the point. "A steak from South America from cleared rainforest will be reported as substantially more impactful than a steak from a UK-based farmer with natural pastures, hedgerows, and low-impact feedstocks," he says. It's this kind of information Barrett is looking to communicate with the launch of Mondra this month. The platform will enable producers to monitor the impacts of their products against four indicators: greenhouse gas emissions, biodiversity, water usage and pesticide toxicity. There will also be benchmarking, enabling the best in class to gain a competitive advantage.

He is clearly confident of the role of carbon footprints within environmental labelling. Within 10 years, Barrett reckons 50% of food and drink SKUs could be using Mondra's labels. Life cycle analyses - or LCAs - have also become slicker and cheaper to produce as automation, blockchain and cloud technologies all promise to "radically reduce" the effort and costs of sourcing, analysing and consuming the data, he adds.
"We have to improve the methodology to make it easier for companies to do this themselves"
The situation is certainly sounding more promising than it did when Tesco started the ball rolling 10 years ago. Still, the progress of Mondra also highlights a major challenge in adopting carbon footprints. That is the glaring lack of a standardised system. There are many external systems for measuring an LCA, including the one developed by the Carbon Trust with Tesco and an array of consultancies offering to footprint anything. But many companies are looking to calculate their own.

That is fuelling a debate over accuracy. Thinktank Chatham House branded many reported LCAs "highly speculative" last year. Mike Barry, former head of Marks & Spencer's Plan A sustainability programme, says there is something of a "wild west" approach in footprint calculation, with each business doing the analysis its own way. Not only does this mean a lack of specific definition, but it also leaves the door open to poor data or dubious accounting.

Oatly argues that the solution is to create a standard methodology, rather than rely on external accreditation. "We have to improve the methodology to make it easier for companies to do this themselves," says Oatly's sustainability director Carina Tollmar. She has a point. A senior industry source also believes an agreed methodology would give companies and consumers "more confidence" in the concept as a whole.

What form that methodology should take, however, is another source of contention. For example, Oatly has only assessed the impact from farm to shop in its LCA - there is no consideration of how much of the product might be wasted or where the Tetra Pak carton ends up. Tollmar says this is because the figures for recycling differ so much between markets.

But that doesn't seem to wash with Michael Lenaghan, a resources expert at Zero Waste Scotland. He believes excluding the 'end-of-life impacts' - that is, whether packaging is reused, recycled, buried or burned - means "you aren't getting the full picture".

So there remain plenty of questions on the right form of carbon labelling. The wider question is whether it is worth the effort. Because there are easier - and potentially more influential - ways of communicating an eco-friendly message to consumers.

Indeed, Mintel research last year found carbon emissions featured relatively low down in the consumer list of ethical priorities. Environmentally friendly packaging was considered important by 43% of respondents, followed by support for local producers (41%) and fair pay (33%). All of those came ahead of a low carbon footprint, named by 21%.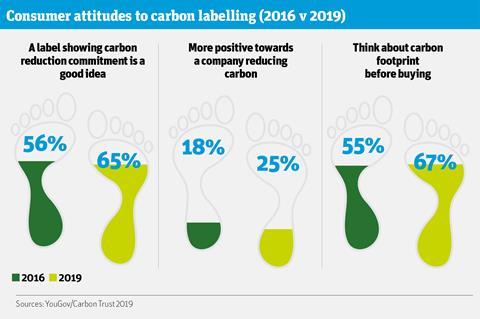 It's little wonder, then, that other companies are concentrating on easier wins. Take Coca-Cola. Although its footprinting programme a few years ago was "instrumental" in understanding the impact of its products, it says the focus is now on the recyclability and recycled content of bottles and cans. "We know this is [the information] consumers are looking for," explains Nick Brown, head of sustainability at Coca-Cola European Partners. Meanwhile, Danone puts "lower CO2 than dairy milk" on some products, but says "transparency on our ingredients' origins remains our main concern".
The simple wording of Danone's carbon claims is significant. Because one of the barriers to getting consumer engagement is the sheer complexity of carbon labelling. As CO2e isn't a widely understood measure, it's a challenge to communicate what this means to the public. "Companies basically spend billions on branding to capture consumer attention to motivate a purchase," says Sophie Attwood, senior behavioural scientist at the World Resources Institute. "Now consider a small, unfamiliar and potentially complicated carbon label within this context."
If the claims are made easier to understand, evidence suggests they could have a larger impact. Adrian Camilleri, senior lecturer in marketing at the University of Technology in Sydney, has been leading research into how to present carbon impacts to shoppers.

The team looked at existing labels for nutrition, energy efficiency and fuel economy and came up with one that translates emissions into a familiar unit: the equivalent number of lightbulb minutes. So a serving of beef soup is roughly the same as a lightbulb turned on for 2,127 minutes, while a vegetable one is just 314 minutes. When Camilleri tested the label out, purchases of the beef soup fell by "about a third".
"Companies spend billions on branding to capture consumer attention. Now consider a small and potentially complicated carbon label within this context"
With that focus on simplicity in mind, Mondra is looking at a take on the recognised traffic light system. It has mocked up prototypes for its new label using the red to green scale for overall impact, together with scores for climate change, water scarcity, pesticide toxicity and (the hardest to calculate) biodiversity impact.

However you present carbon labelling, though, there's no denying the positive intentions. A look at the early adopters shows it stands to make an impact in-house, even if there is some way to go in communicating that to consumers.

By looking closely at its emissions, Quorn worked to reduce the carbon footprint of its mycoprotein by 32%. For Oatly, the exercise led to smarter energy use. By switching all its facilities to renewables, the emissions per carton plummeted from 110gCO2e to just 7gCO2e. Granted, that can't always be guaranteed, but the company is upfront about any changes. If Oatly's production is expanded to sites without renewables or suppliers change (as happened in 2018 when a drought led to more oats being sourced from Finland), this is reflected in the footprint on pack.

Oatly is now calling for better collaboration to make this practice more widespread. "We know consumers are open to getting easy access to environmental data [but] our real challenge is getting the government and industry support to make it readily available," says Ishen Paran, general manager at Oatly UK.

Of course, this is a similar challenge to the one Tesco faced 10 years ago. But perhaps this time, carbon footprints are on a firmer footing.
Tesco treads new foot(print)path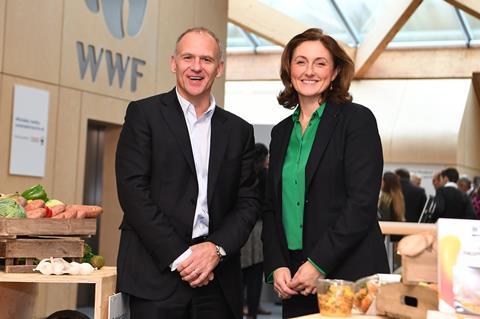 Footprints take a back seat. In 2012 Tesco dropped its on-pack carbon footprint programme. Since 2015 it's been working on a new project, which was finally agreed and announced with WWF-UK in 2019.
What's the plan? The supermarket wants to reduce the environmental impact of the average UK shopping basket by 50%.
How? Good question. It spent the first year deciding which metrics it will use and what its shopping basket will look like. Twenty popular foods have now been selected - including meat, fruit, fish, snacks and drinks - and they'll be measured against seven criteria, including climate change, deforestation, marine sustainability and food waste. Climate change is seen as the top issue (with a 25% weighting), whilst packaging is at the bottom (8%).
That seems complicated. It is. But it makes sense, not least because it stretches further than greenhouse gas emissions to offer a more accurate impression of what sustainable food looks like. That doesn't seem to phase Tesco, though, who have said it wants to hit the "sweet spot" where sustainable consumption is made easy for shoppers.
How will it do that? Either by choice editing products so only the most sustainable ones appear on shelf (the approach long favoured by the likes of Marks and Spencer), or by promoting them in store. Whether that could involve labelling, it won't say. However, it is a potential option.