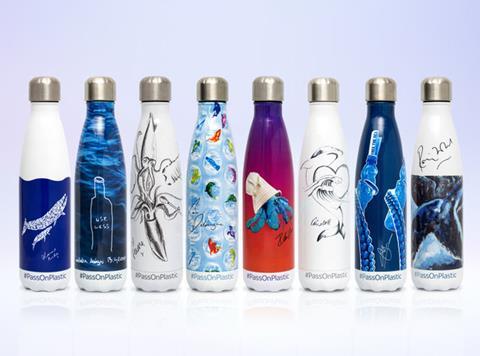 Celebrities including Kate Moss, Harry Kane, Cara Delevingne, Sienna Miller and HRH Princess Eugenie of York have designed a range of reusable products as part of a campaign to encourage people to stop using single-use plastics.

The #PassOnPlastic campaign, backed by organisations including Sky and WWF, is marketing reusable versions of the five most common single-use plastic items currently contributing to the quarter of a tonne of plastic entering the oceans every second.

Proceeds from the range will go to initiatives such as Sky Ocean Rescue's partnership with WWF UK.
It comes as a survey commissioned by Sky Ocean Rescue and ocean conservation organisation Project 0 shows nearly 60% of Brits believe single-use plastic will become a social taboo by 2021.

It claims 70% have reduced their plastic usage in the past year because of its impact on the environment and oceans, whilst 40% say they now feel embarrassed being spotted with single-use plastic.

However, the survey claims many Brits feel they are still lacking a way to go single-use plastic-free. Only 32% say supermarkets help them to reduce plastic use, a figure which drops to 17% for restaurants and cafés, 12% for online retailers and 11% for independent retailers.

"Our new research reveals there has never been a stronger desire from people to make positive changes to reduce their single-use plastic footprint and start saving our oceans," said Sky Group head of responsible business and Sky Ocean Rescue Fiona Ball.

"What's more, we're aware that increasingly people won't accept mindless consumption of plastic. They're ready to start taking action to solve the problem and encouraging others to do the same. That's why we are so proud to help them make these changes. We've partnered with Project 0 and some of the best-known names in the UK today to create a range of reusable products that not only look good but do good."

The new limited-edition range is available for purchase today (8 November) from Sky.com/POP.