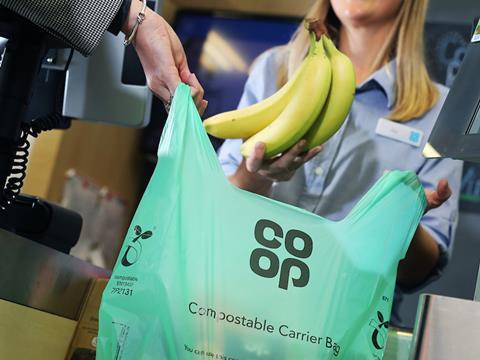 The Co-op has rolled out its new compostable carrier bag to more than 1,000 of its stores this week.

The rollout follows a trial of the 5p not-for-profit compostable bags in 22 stores in Greater Manchester at the beginning of September.

The first phase has been launched in communities where local authorities accept the bags in food waste collections.

The compostable carriers will replace conventional single-use plastic bags.

The new bags, which can turn into peat-free compost and are approved for home composting, have a secondary use as food waste bin liners after customers have carried home their shopping.

The Co-op estimates the initiative will remove about 60 million single-use bags from circulation.
Iain Ferguson, the Co-op's environment manager, said members and customers expected the society to help them make more ethical choices.

"We are working to get closer to what our members want, need and care about," said Co-op environment manager Iain Ferguson.

"We face huge global challenges and our ethical strategy sets out a recipe for sustainability to source responsibly, treat people with fairness and produce products which have minimal impact on our planet. However, we can't do it alone and co-operation is key to our plan - we welcome measures designed to make recycling simpler and more accessible for consumers, which bring together supply and waste value chains to achieve a more circular economy."

The rollout of compostable carriers forms part of its ethical strategy 'The Future of Food - a recipe for sustainability' - which sets out how it will tackle plastic pollution as well as food waste, healthy eating, saving energy and trading fairly.

The Co-op's pledge on plastic will see all its own-brand packaging become easy to recycle by 2023. All own-brand black and dark plastic packaging, including black ready meal trays, will be eliminated by 2020.

"We absolutely need to explore innovative ways of tackling plastic pollution, but there is a balance to ensure initiatives are well thought through and avoid unintended consequences. I'm pleased to see this reflected in the Co-op's approach to its compostable carrier bag initiative by carefully designing an approach that aligns with existing local collection systems," said Wrap CEO Marcus Gover.

"By everyone moving in the right direction, we can transform the plastic system in the UK and keep plastic in the economy and out of the environment."