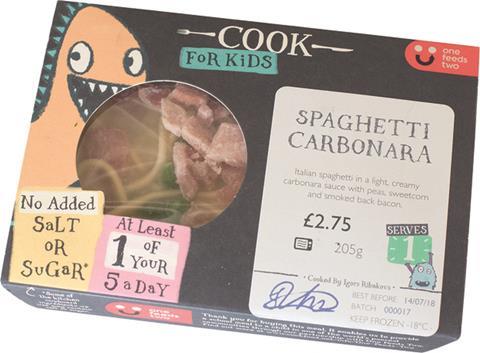 Cook will next month begin moving its range of hand-prepared frozen meals out of black plastic into recyclable cardboard-based trays.

The ready meals manufacturer aims to have more sustainable packaging across its entire range by the end of 2020.

The firm has undergone months of trials and will switch to a cardboard tray supplied by Southern Cross Packaging for its Cook for Kids range of children's meals. Once rinsed, the trays can be recycled with other household paper waste.

"We've started with our kids range because the size and format is best suited to the cardboard tray and, given the fact it's our children who will inherit the plastic problem, it seemed the right place to begin," said Edward Perry, Cook's chief executive and co-founder.

The cardboard trays are scheduled to go into full production at Cook's kitchen in Kent in November and start appearing in stores before Christmas. The company hopes to start switching its adults one-portion meals into cardboard trays in the first half of 2019.
"This has required some fundamental changes to our processes and operations in the kitchen, as well as exhaustive product testing, so it's been far from straightforward but there's no doubt it's the right thing to do," Perry said.

Richard Pike, head of sustainability, said: "As Cook's dishes go straight from the freezer to the oven or microwave, finding appropriate packaging is challenging.

"We've been searching for a realistic alternative to plastic trays for some years and it's only recently that the technology and scale of production has emerged to make a switch possible. With cardboard trays, we also needed to make sure the board was being sourced responsibly, otherwise we would simply be swapping one sustainability problem for another."

The board used by Southern Cross is from sustainable sources approved independently by the Programme for the Endorsement of Forest Certification (PEFC).

Cook already uses recyclable Southern Cross trays for its range of Pies For One, launched last year. Pike said the longer-term goal was for Cook to have completely exited single-use plastics across its business by 2025.

The business switched to 100% renewable electricity at its two kitchens and 58 company-owned shops last year and is looking for other ways to reduce its environmental impact.

Pike said: "We have a target to cut in half our avoidable food waste by the end of our 2020 financial year."

Cook has been a certified B Corporation since 2013, passing an independent audit of its environmental and social impact and its corporate governance.

The company has 92 shops, including franchises, nationwide, and concessions in 450 other retailers, including regional Co-ops and Budgens stores. Net sales last year were £58m.