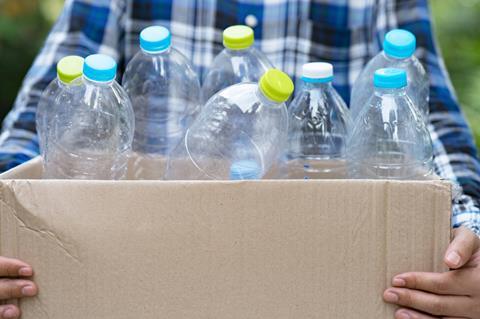 Campaigners have accused the government of "wasting six years" developing plans for a deposit return scheme (DRS) after a leaked government document confirmed the system will not be rolled out in England until the end of 2024 at the earliest.
The Grocer exclusively revealed in December plans for a DRS system were to be put back by a year, amid fears over the impact of the pandemic.
The government is due to release details of a consultation on the plans this week. Environmental groups, who had already been briefed in advance on the proposals, expressed dismay after the delay was confirmed.
CPRE, the Countryside Charity, accused ministers of "kicking the can down the road".
"Despite huge public appetite to tackle the waste crisis, we have mountains of litter piling up in our countryside," said Tom Fyans, campaigns and policy director at CPRE.
"New research shows around eight billion drinks containers are landfilled, littered or burnt every year. Despite all this, the government looks set to delay a deposit return scheme until the end of 2024 – essentially shirking their responsibility and waiting for a new government to show any leadership on the issue. This amounts to six long years of dither and delay."
Last week The Grocer revealed that plans for a DRS system in Scotland faced the prospect of another year-long delay, to 2023.
Ministers north of the border launched an independent review into the timeframe for the rollout, with retailers warning it will be impossible to safely pilot test DRS in stores amid continuing Covid restrictions.
The delays come despite a coalition of the UK's major drinks suppliers and supermarkets coming together for talks, aimed at launching a new management company that hopes to run a multibillion-pound DRS across the UK.
The Grocer revealed last month there had been major progress in talks between suppliers, including the likes of Coca-Cola, AG Barr and Britvic, with supermarkets such as Asda and Tesco, aimed at setting up an administrator for a DRS, which itself now won't go ahead until at least 2024.
"This delay is so much more than kicking the can down the road," added Fyans. "It seems that in the face of industry lobbying, ministers would prefer to stick their heads in the sand rather than tackle the problem of waste head-on.
"The public want to see action, not just warm words. The evidence is clear that an 'all-in' DRS is the best option for people, planet and our economy, yet the government are showing no leadership on the issue at all. It beggars belief when the evidence is so clear that an all-in' system is needed, they are still unwilling to make the polluter pay."
Writing in The Sun newspaper yesterday, Camilla Zerr, campaign lead at Friends of the Earth, said: "A comprehensive deposit return scheme could be a game changer in fighting plastic pollution.
"But when it comes to dealing with the wider waste problem, ministers must not bottle it."