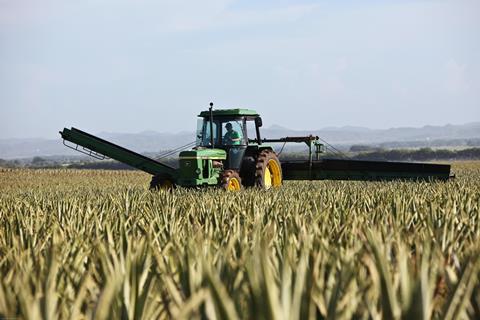 The Fairtrade Federation has called on the government to increase investment in smallholder farmers and workers ahead of COP26.
In a letter backed by British retailers such as M&S, the Co-op and Waitrose, Fairtrade urged the UK government and other world leaders to deliver their "$100bn climate finance promise".
Developed countries have pledged to mobilise $100bn annually from 2020 to support developing nations in tackling climate change. However, donor countries have fallen short of the goal – in 2019, they contributed $79.6bn.
Fairtrade claimed that governments' lack of urgent action was "threatening farmers' livelihoods and global food supplies, and deepening poverty".
It said that "next to nothing" was being poured in and that the funding needed "to reach farmers and workers directly" in order to help them grow food despite the changing climate.
Fairtrade added that the government's net zero carbon emissions goals must include targets and policies that relate not just to domestic emissions but also those derived from imported goods.
The organisation also developed a pledge as part of its Be Fair With Your Climate Promise campaign, in which its business partners committed to taking accountability for their own environmental impact and investing in making its global food supply chains more sustainable.
Waitrose, M&S and the Co-op all source from Fairtrade producers in Africa, Asia, Latin America and the Caribbean.
"We are reliant on the global food system for the food we enjoy," said Co-op Food CEO Jo Whitfield. "However, the reality is that for many of our suppliers the impact of the climate crisis is immediate and pressing.
"That's why we've been calling on governments to ensure producers in low-income countries receive support to cover the cost of adapting to climate change and transitioning to low carbon production, and on businesses to play their part too."
A Waitrose spokesman said: "As would be expected of a retailer that sells the widest variety of Fairtrade produce in the UK, we are in full support of its call to invest more in smallholder farmers and workers.
"The communities that grow, pick and pack Fairtrade products are among the most impacted by climate change and it is our moral responsibility to take greater care not only of them but the environments we source from. Only by addressing the impacts of climate change, providing investment and planning for a more sustainable future can we hope to turn things around."
As part of the business pledge, partners agreed to four different commitments: paying fair prices to producers, developing long-term partnerships with farming communities, being transparent about their environmental impact, and speaking out for farmers and agricultural workers' rights within the context of the climate crisis.
Fairtrade America director of marketing and external relations Mary Linnell-Simmons said the group welcomed the support for farmers from the different retailers and brands and that it was "imperative that businesses take a lead by earnestly committing themselves to supporting the farmers in their international supply chains".
"We call on other businesses to do the same," she added. "It is more important than ever that we listen to our farmers, raise their voices and ensure governments and businesses alike act now."
Several retailers, such as M&S and Tesco, have been announcing new carbon emission reduction targets in the run-up to this year's COP26, which is kicking off in Glasgow at the end of the month.