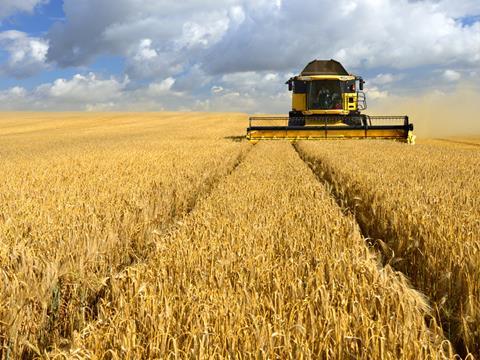 A ban on the use of controversial herbicide glyphosate could cost the UK agrifood sector up to £1bn a year and contribute to a surge in food prices, research has suggested.

A study commissioned by industry lobby group the Crop Protection Association alongside agricultural consultancy The Andersons Centre and research firm Oxford Economics, claimed an EU-wide ban could have a "potentially devastating" impact on the British economy and agricultural sector.

Wheat production could fall by as much as 20%, according to modelling of Defra data by Andersons, while overall output could drop by 3.8% - the equivalent of £940m a year.

Productivity in the sector was also expected to fall as more labour-intensive operations were needed in the absence of glyphosate, the research found. An increase in employment due to more labour-intensive operations also had the potential to push down UK farm profits from a total of £6.6bn to £5.7bn a year, it said.

It also claimed a ban could be bad for the environment and biodiversity, as small farms would likely be forced to merge into larger ones to make lower margins more bearable.

The EU licence for the chemical - used in Monsanto's bestselling weedkiller Roundup - is due to expire at the end of 2017 after it was given an 18-month extension last summer.

The long-term extension of glyphosate's licence has been a topic of significant debate at EU level for several years, with a group of member states including Germany, France, Italy, Greece and the Netherlands all previously opposing a long-term extension to its licence.

Since being given a reprieve last year, the chemical has been found by the European Food Safety Authority as "unlikely to pose a carcinogenic hazard to humans", while the European Chemical Agency said in March that glyphosate should not be classified as a substance that could cause cancer.
Opposition

However, non-approval of the chemical in the face of stiff opposition from environmental groups was still a realistic prospect, and could trigger a sharp fall in output across the EU, the report said - potentially leading to a big rise in food prices across the continent.

"Our report's findings are very clear: a glyphosate ban will negatively impact UK GDP and agriculture, at a time of real uncertainty for British farmers," said Oxford Economics director of consulting Ian Mulheirn.

"If glyphosate was not approved for use in the UK but remained available in the rest of the world, this would place domestic production at a considerable disadvantage," he added.

"The debate around the use of glyphosate is more about politics than science," said CPA CEO Sarah Mukherjee.

"Glyphosate is and always has been safe, with over 40 years of robust scientific evidence showing no risk to safety. Clearly the UK government should continue to champion a science-led approach to decision making in Europe and vote to renew glyphosate's licence. Failure to do so risks damaging the economy, the environment and the agricultural sector."

Defra has yet to disclose its latest position on renewing the chemical's licence. However, farming minister George Eustice has recently spoken of his support for retaining glyphosate's use.

In response, the Soil Association's policy director Peter Melchett described the study's findings as "clearly nonsense".

He said: "Every previous claim suggesting that banning a toxic spray will cost money has proved to be wildly exaggerated in practice - indeed, sometimes farmers have found that not using spray saves on money."