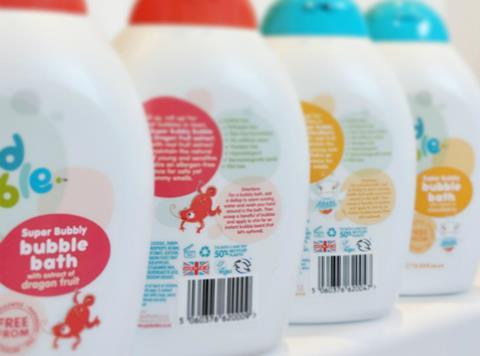 Deborah Meaden-backed babycare brand Good Bubble has announced a move to sustainable packaging – as part of its mission to cut its carbon footprint in half by 2020.
The Manchester business is set to roll out packs across its portfolio made with 50% recycled plastic, which "may have previously been used as milk bottles, yoghurt pots or even a child's toy in a former life".
The reduction in virgin plastic was "a natural progression for us, and something we've been wanting to do for a long time" said Good Bubble founder Amy Wordsworth. "We're so happy we've been able to make this happen."
While the brand's packaging would look the same, "our carbon footprint will be massively reduced" she added. "There's a lot more to do, and we aren't going to stop until we totally eliminate our virgin plastic."
Good Bubble's organic range of toiletries for babies and children, accredited by The Vegan Society and Cruelty Free International, is available in 400 Boots stores, as well as being listed by Ocado, Holland & Barrett and Whole Foods Market.
In 2015, Wordsworth appeared on Dragons' Den, securing £60k from Deborah Meaden in exchange for a 40% stake.
The move to using recycled plastic "was the next logical step for Good Bubble" Meaden said. "Never has it been more important for brands to take responsibility for their packaging: from the materials that are used, to the way it is manufactured and how the packaging is disposed or reused afterwards. It is simply not enough to stick a recycling logo on a bottle."