Systems that offer an environmental score on food packs are developing at a furious pace and heading our way. But which scheme will dominate, and to what extent will it succeed in engaging consumers?
It's a rare initiative that can unite the UK's biggest supermarkets and food brands behind a common cause. Especially if it's one that will require them to expose some not-always-flattering company data and put it on packaging for everyone to see.
But Foundation Earth – an organisation founded only four months ago – is doing just that. Major manufacturers including Nestlé, Danone, PepsiCo and Tyson Foods have all thrown their weight behind the not-for-profit organisation, alongside retailers Tesco, Morrisons, M&S, Sainsbury's, Aldi, Lidl, Waitrose and the Co-op.
The ambition is for a Foundation Earth front-of-pack environmental score – a colour-coded traffic-light style system similar to the one used for nutritional content – to be applied to all food products across Europe. It's a straightforward and standardised label that the independent, non-profit organisation says will enable customers to "make more sustainable buying choices", driven by an "optimum and automated system" for scoring that will be in place by 2022.
Foundation Earth is confident these scores will become commonplace. "It's no longer an expectation, it's happening. And it will come quicker than you think. It's coming fast and furious," says executive director Cliona Howie. She's not the only one who thinks so; rivals such as Eco-Score are also developing their own systems for brands and retailers.
The ultimate aim is simple: to save the planet. The hope is that consumers, armed with credible, independent information, will swing their purchases towards more sustainable products. In turn, food producers will be motivated – or shamed – into improving processes, sourcing and emissions to secure a better score. "We need to transform the food industry, and quickly," says Howie. "We don't have time."
So what will a universal eco-score look like, and who will provide it? What are the implications for brands and supermarkets? How likely is it one will ever get implemented? And do consumers care enough for it to make a difference?
In simple terms, an eco-score is a front of pack indicator of the product's environmental impact. All such scores involve a grading system and colour coding. There are differences between how scores are determined and what data they are based on.
The first such system was Eco-Score, launched in January 2021 by a French collective. It is being trialled by Colruyt in Belgium and Lidl in various regions, including 105 Scottish stores since August.
More than 50 of Lidl's own-label products carry the label, to give shoppers "a better understanding of the environmental consequences, at a glance" the discounter says.
"We know shoppers want more support in understanding the environmental impact of the products they buy day to day and Eco-Score will do just that," says Amali Bunter, head of responsible sourcing and ethical trade at Lidl.
Foundation Earth launched its rival system in July. For now, pilots are underway testing two score types, one in the UK and another in Europe. Major producers and retailers have joined its steering board, and some of them are taking part in trials.
Ultimately, experts expect only one such system to survive. "In the end there's going to be one dominant score, because that's really the only way the consumer will benefit [and] it's the only way to really compare products on a shelf in a supermarket," says Marjolein Hanssen, consumer foods analyst at Rabobank.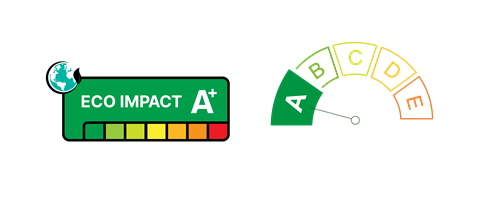 The question is which one has a better chance. Foundation Earth's work is perhaps more favourable to brands, as it will allow for variation between alike products from different producers, whereas Eco-Score is based on a typical life cycle analysis (LCA) of a product type, with some product-specific adjustment. The former allows for more variation in scores between category competitors.
Another factor weighing in favour of Foundation Earth is that its efforts aren't yet as fully formed, as is the case with Eco-Score. "Eco-Score all of a sudden was there and ready to be implemented and already on some packages," explains Hanssen.
"I think it prompted some food companies to say – oh, but are we happy with this methodology? Do we want to change it? They want to have a say in what's going to be on their products."
On the flip side, the involvement of huge corporates could count against Foundation Earth. As Linda Ellett, head of consumer markets and retail at KPMG explains, any widely adopted labelling system "needs to be credible and a trusted antidote to the trends of greenwashing".
Broadly speaking, big brand involvement, particularly ahead of potential government legislation in the area, is something to be wary of on this front, says Tim Etherington-Judge, co-founder of drinks brand Avallen.
The resulting label "will undoubtedly be watered down by large corporate interests to dictate what information we need to put on it", he argues.
"One potential problem with the traffic light system is who gets to define the guidelines and what levels they're set at," he adds.
Still, Howie is aware of and comfortable with the cynicism regarding the brands already involved in Foundation Earth's efforts. "It's a very normal thing. I'm glad they say that and hope they continue to. It's not credible unless we're scrutinised. We're open to people questioning and doubting and we have to be able to come back with trusted credible answers," says Howie, adding that she spent decades working on the 'warrior' side of environmental issues.
"People can ask if there's secret hidden agendas, but it's simply not going to land. Our whole purpose is contrary to that," she adds.
The brands already sharing environmental scores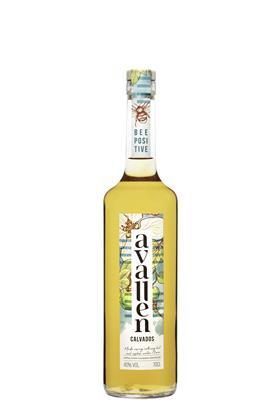 Avallen
"Carbon labelling is coming to food and drink products sooner or later," says Tim Etherington-Judge, co-founder of Avallen.
The brand has moved to display product carbon emissions, water usage, recycled material use, and charitable donations on its new label, "so people can make an informed decision at the point of purchase".
Etherington-Judge would like a standardised system. Because there is "no consistent framework for environmental labelling" at present things can be "confusing for the public". "The framework that is likely to gain ground is the one that lobbies parliament hardest," he argues.
Mash Direct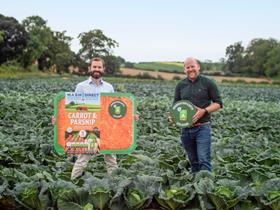 The brand is applying Foundation Earth scores to five of its products and is "aiming to roll out the packaging to other products next year".
For CEO Jack Hamilton, the appeal was the ability for customers "to directly compare the sustainable credentials of two competitor products".
"As a sixth-generation family farm we are dependent on the Earth and are very aware that the way we all behave must change in the face of the current climate emergency. Introducing the Foundation Earth scoring system packaging is a hugely important step in our commitment to providing full transparency to our customers," he said.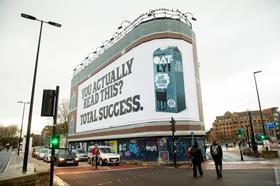 Oatly
Oat milk brand Oatly put carbon footprints on its UK packaging last spring. The calculations of emissions per product are made by external firm CarbonCloud using a peer-reviewed model.
Like the leading eco-scores, it is based on farm, factory, packaging and transport emissions. The brand supports a standard methodology, so it and rivals don't have to rely on external accreditation.
"The one problem with all these numbers is there's nothing to compare them with," the company says. "The solution, of course, is for more of the food industry to put their figures on the table – or preferably right on their packaging."
Quorn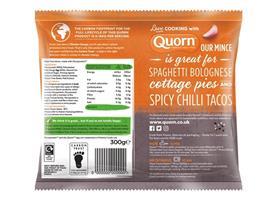 Quorn has already rolled out Carbon Trust accredited carbon footprint labelling to 48 of its products, and is on track to have the full range footprinted by the end of the year.
"We'd expect those products with lower carbon footprints to be more popular amongst shoppers trying to do their bit to help the planet," says Sam Blunt, commercial operations director at Quorn Foods.
Nevertheless, the brand welcomes a single, standardised environmental score.
"It would definitely be useful for shoppers. This will depend on the regulators but, in our opinion, it cannot happen soon enough," Blunt says.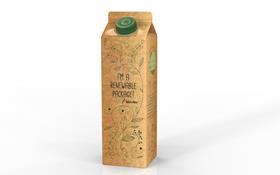 Tetra Pak
Last year Tetra Pak worked with the Carbon Trust to certify one of its plant-based packaging options – Tetra Rex – as CO2 neutral according to the international PAS 2060 standard.
The packaging manufacturer supports a universal rating system but, adds global product manager Davide Braghiroli, "there is still a long way to go".
"Having a unique eco-score is a positive move, but it should show exactly how the different elements contribute to the overall score in a way that is transparent and easy for buyers to understand. In this respect, Foundation Earth is taking the right step forward," he says.
It is, of course, quite possible neither of the best-known eco-scores will go mainstream, and an upstart will prevail. "Companies for now are checking out what's out there, what works for them, which might become dominant. I wouldn't be surprised if there are more initiatives. And signing up to one won't stop them joining another," says Hanssen.
It's not easy to create such a system, though. Obtaining and analysing the data required is labour-intensive. In Foundation Earth's case, pilot participants provide their own life cycle analysis (LCA) data, which is checked and verified by the organisation's team of scientists. Even analysing data for a small part of a product range takes around six months. Foundation Earth is currently working on technology to bring more automation to the process.
Eco-Score similarly involves a complex process. It uses an existing, open source database of LCAs, with the product score tweaked based on several factors.
All of this requires serious work. So the question is who will pay for the research and analysis. For now, the score providers are exploring their options.
Current participants in the Foundation Earth pilot – among them M&S, Costa Coffee, Meatless Farm, Greencore, Abel & Cole, Mash Direct and Finnebrogue Artisan – are funding the trials in full.
But these are the trailblazers. Howie points out Foundation Earth will also be working to convince brands with poor environmental credentials to get involved.
"We need naysayers as well as first movers. It's our responsibility to go out there and get a diversity of participants," she says.
Convincing the laggards to stump up cash for the privilege of having their poor score exposed is a far trickier feat. Yet it may not be their choice for long.
"It's not an easy task to figure out what your LCA score or overall environmental impact is. It takes effort," says Hanssen. "Once these things become mandatory or a retailer enforces it – depending on the investment needed – it will be an interesting discussion as to who is going to pay for that."
That future may not be too distant. A bill that will require food manufacturers to label their products to "indicate the environmental sustainability of their origins" is currently on its second reading in the House of Commons.
"I want us to move rapidly to a world where we can see very clearly, when we pick up a product in a supermarket or in a local shop, whether it comes from a source that is sustainable and that it has not caused environmental damage in its development," said Chris Grayling when introducing the bill late last year. The "proper kitemark system or similar" should not "hamstring producers" and they should be involved with its development, he added.
"I do not want to place an unduly high burden of regulation on businesses, particularly at what is such a challenging time economically, but this is something that must happen," Grayling said.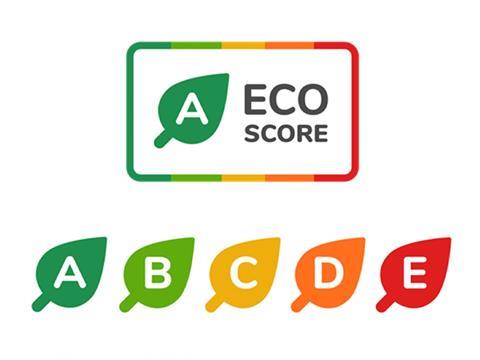 The MP more recently welcomed the Foundation Earth pilot, as did UK Secretary of State for Environment, Food and Rural Affairs George Eustice.
Labour is in support, too. Shadow environment secretary Luke Pollard wants to see "clearer labelling on carbon and environmental credentials so people can back the brands and products doing the right thing by our planet".
The EU is moving in a similar direction. The European Commission is expected to put forward a proposal for an EU-wide food nutrition labelling scheme at the end of 2022, but is considering a sustainable food labelling framework too, with a hope it will be in place by 2024.
The framework will be data based – with Eco-Score and Foundation Earth doubtless influencing the eventual scheme. The commission could adopt one or other, or create its own. "It could end up being a government or EU framework outlining standards that need to be met and subcontracting out the checks and balances to sustainability consultants. It may be that in the UK the CMA has an expanded role, or this might fall to another regulatory body," Ellett says.
One indicator of the CMA's role in a future standardised environmental score is its publication of a 'Green Claims Code' earlier this month (p16) to "ensure businesses feel confident navigating the law in this area" amid concerns over consumers being misled by companies' green claims. The competition regulator said it would also use desk-based research, information gathered from third parties, direct requests to businesses and site visits to verify claims.
Whoever regulates the scores could become the basis for further policy moves. "The government could introduce financial incentives, such as a tax on items relative to their environmental impact," says Ellett.
"Consumers would still have a choice, but would, in time, directly associate the environmental impact with financial considerations," she adds.
Ahead of any legislation, retailers may well start making their own eco-score demands of suppliers.
"It's something positive for retailers to be able to offer customers. And once retailers start to endorse this score, it will be up to food producers to position themselves accordingly," says Hanssen.
Quite possibly, the scores could become the norm without pressure from regulators or retailers. Voluntary traffic-light nutritional labelling is now displayed on two-thirds of all food and drink packages in the UK, according to IGD.
Consumer response
Of course, eco-scores only help to save the planet if consumers pay attention to them. "It's all well and good to do it, but if it's only passive… just putting stuff out there is only step one," says Howie.
With that in mind, Foundation Earth has a suite of research planned to examine consumer understanding of the scores and how they might impact their purchasing behaviour.
The research already out there suggests there is definitely appetite for an environmental score. A study last year by the BEUC, The European Consumer Organisation, found most consumers (57%) want sustainability information to be compulsory on food labels.
The understanding and behaviour side of the equation is more complex. The European Commission has already tested several traffic light-based 'Product Environmental Footprint' labels on consumers, containing varying levels of detail. Unsurprisingly, complex labels with more information had a more significant impact on purchasing, but only if they actually read and understood them, a 2019 study found. Simpler labels reached a wider audience, but had less impact on behaviour.
Finding the right balance will be crucial. According to IGD research, around four in five consumers know the colour coding of nutritional traffic light labelling can be used to compare products or as an indicator of healthier choices, but more than half don't know how to properly use the labels to meet recommended intakes.
There is also a question of whether environmental credentials are as powerful an influence as nutritional content. Research earlier this year by KPMG showed 89% of consumers globally say they are willing to pay more for ethical retailers or a brand that gives back to society, particularly younger generations, and 37% said they are now prioritising sustainable products or services more than they did before Covid-19.
But research also indicates consumers struggle to match their supermarket purchases with their desire to tackle issues like climate change. A University of Leeds study last year found Brits had often made one or two dietary changes to reduce the climate impact of their food choices, but rarely the most effective ones.
"Even the respondents who were most engaged with environmental issues were often ill informed – rarely mentioning the most effective strategies and frequently suggesting relatively ineffective ones. This suggests that advice about how people can make more sustainable food choices isn't even reaching the ones who might want to do the most," the researchers said.
For these people, eco-scores have huge potential to make a difference. As Ellett points out: "Buying decisions will only be influenced if the customer cares about the environmental impact of a product."
Luckily, the group of people who do care is growing. "At the moment, factoring in the sustainability of a product is a luxury that only some consumers will opt for, but this is shifting over time," she says. "It wouldn't harm a brand to get ahead of the game."
According to Howie, brands "know they have no other choice" but to play. "Industry players are desperate to do this. The point of no return has come and gone.
"If they want to stay as a trusted producer, brand, retailer in the marketplace, they have to be credible, and convince people they really are taking action."