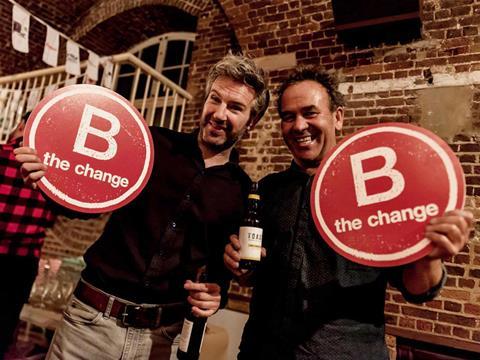 Less than three years after it officially launched in the UK, sustainable certification body B Lab is fast attracting some of the biggest names in grocery.

Last week Danone, the second-largest player in the UK dairy market, became a fully-fledged B Corp, committing to extend the certification across its multi-billion pound global business by 2030. It joins 13 food and drink firms (and 150 in total) in the B Corp UK community, with Ella's Kitchen, Cook, and Divine Chocolate all members, committed to 'making a material, positive benefit to society and the environment.'

So, what's the appeal? What's involved? And will we see more behemoths sign up soon?

Founded in the US in 2006, with its first member certified a year later, the non-profit B Lab certifies for-profit businesses that meet a minimum threshold regarding their standards on social and environmental performance, accountability, and transparency. Globally over 2,000 businesses have achieved certification, across 130 industries and in 50+ countries, with the UK arm launched in 2015.

Independent retailer Cook was among its founding UK members. "Fundamentally we believe as business owners that capital should be operated as a force for good," says co-founder Edward Perry. "Government can only achieve so much. Charities can only achieve so much. If we want to live in a world where we can improve society, then business has got to start behaving more responsibly in terms of how it treats employees, how it behaves in communities in which it operates and how it behaves as far as the environment is concerned."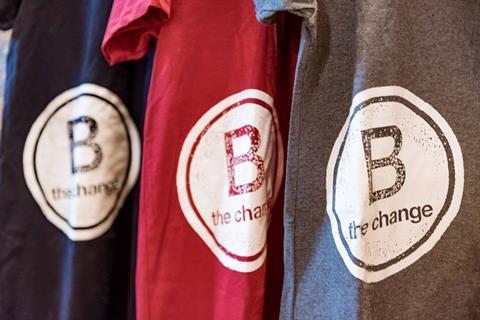 How to become a B Corp
First, all businesses must complete the B Impact Assessment tool, available online free of charge. This self-assessment measures five core areas: governance, employee relations, community impact, environment, and the function of the business, generating a score out of 200.
Businesses that score above 80 will then undergo a review process with a standards analyst trained to carry out an "in-depth dig of responses" says B Lab UK's Katie Hill.
Those that successfully pass both these stages are then able to certify as a B Corp, on the condition they amend their articles of association to "reflect a commitment to material, positive benefit to society and the environment".
Each B Corps will undergo reassessment every two years, with criteria continually updated to reflect best practice. Annual costs for membership depend on turnover and range from £250 for a startup to 10s of thousands.
That's echoed by Mark Cuddigan, B Corp 'champion' and CEO at Ella's Kitchen, which signed up in 2016. "I could probably give you 20 reasons why we signed up," he says. "The purpose behind B Corps just fitted as we were doing this all anyway."

As well as simply reinforcing existing values at a business, certification provides a framework to measure and drive progress, say members, with amendments to a company's articles of association a requirement of signing up, and members reassessed to new, updated criteria every two years.

US-based business Ben & Jerry's is now in its third cycle of reassessment, says European MD Anuradha Chugh, and "every time you see progress. It's a very good measure and way to keep yourselves as progressive as you can be."

Membership also creates a network of like-minded businesses that can turn to one another for support, says Perry. "You become part of something much bigger than yourself, and that's a powerful thing. You know if there's another B Corp you can pick up the phone to anyone, almost at any level, and say 'I've got a problem' and they will share ideas and help."

According to research released by the NGO this week, businesses certified as B Corp grew 28 times faster than UK GDP in the past 12 months, with an average year-on-year growth across members of 14%. A third (35%) of certified UK companies said they had attracted new audiences since joining up, while almost half (48%) found that prospective staff had been attracted to the business specifically because it was a B Corp.
On the consumer radar?
"The difference it's made at Ella's has been extraordinary in terms of engagement and excitement of staff," says Cuddigan.

Awareness among consumers might be limited, admits Perry, despite the logo brandished on packs, but "that'll build over time" and in the meantime "our teams really buy into it and feel we're part of something bigger than ourselves.

"We've had our best three years yet since we became a B Corp. Our financial performance has gone through the roof."

But if that's the case, why aren't all fmcg businesses rushing to certify? Despite the high profile announcement from Danone last week, scaling up the community has been slow, with less than six food and drink firms joining the ranks per year since the UK launch.

Certifying can be a challenging process, admits Katie Hill, executive director at B Lab UK, with a multifaceted assessment requiring a minimum score of 80 out of a possible 200 points (see box). "That sounds easy but is actually surprisingly difficult," she says. "Some people are in the pipeline for a long time. Others shoot through. And there's everything in between."

"It's not an easy journey for any company" but for public companies and multinationals the process can be particularly onerous. Businesses operating in different jurisdictions may require multiple impact assessments, says Hill, and "that's a lot of data to gather". On top of that all certified companies are required to amend their articles of association, which, for public companies, will require agm approval from shareholders.
"Since we became a B Corp we've had our best three years ever - by a country mile"

"The assessment is no mean feat," says Adam Grant, MD of Danone Dairy UK, Belgium & Netherlands. "It was extremely rigorous but also collaborative. It gave us the opportunity to deep dive into our practices and establish what we're doing well and where we can improve."

The NGO has seen "so much interest" from similarly large, multinational companies, that it recently established a committee "to look at the challenges and work out how to make the process more efficient and meaningful, making sure the questions we pull on for multinationals are the right ones," adds Hill, with a new piloted scheme set to begin in the next few weeks.

Cuddigan is adamant that appetite among fellow fmcg businesses is there, with four of its own five biggest suppliers committed to certifying by the end of 2018, which is "extraordinary," he says. "We need a few more marquee brands, but that's coming. I hope this time next year there'll be 50 UK fmcg companies that are certified, with some really, really big brands.

And that could signal huge benefits for both business, and the world at large.