From single-use plastic packaging to carbon-guzzling refridgeration systems, It's undeniable that grocery stores take a toll on the planet. And as shoppers wake up to their impact on the planet, the retailers are rolling out green trials and pledges faster than ever before. To mark Earth Day 2021, here's a look at some of the big retailers' most eco-friendly stores and the initiatives they're testing out inside them.
Asda Middleton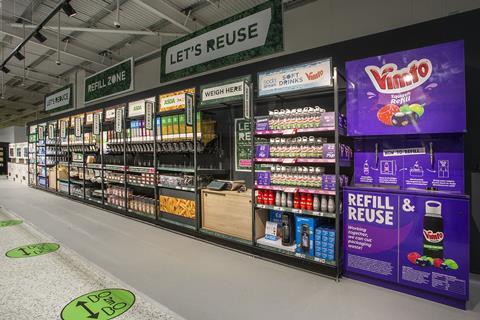 This superstore is a giant test bed for all things green and plastic-free. Asda partnered with Unilever, Kellogg's and more to set up this eco store of the future in the south of Leeds.
It only opened in October last year, so Asda hasn't revealed details around what elements of the store have been a hit with shoppers yet, but it features all the elements you'd find at a small eco indie shop at a much larger scale.
There are 15 large refill stations dishing out a wide selection of weekly staples, from Vimto cordial to loose rice, pasta and cereal, all without the packaging.
Asda's tie-ups with suppliers comes into its own in this section, with Unilever taking the lead on refills for handwash, laundry detergent and bathing products. Shoppers can sign up to get a free metal refill bottle, and pay for only the product volume they purchase using the dedicated bottle stations.
Famously one of the worst offenders for single-use plastics is the fresh produce aisle. To tackle the problem, Asda has stripped out plastic packaging, with 50 lines sold in loose and unwrapped formats. It also moved all plants and flowers to paper wrapping.
To tackle tricky kerbside recycling rules, there's a big outdoor recycling centre that will allow shoppers to drop off their hard-to-recycle plastics like toothpaste tubes, crisp packets and used cosmetics containers.
Aldi Ulverston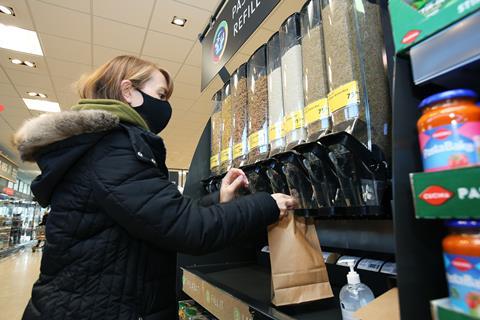 Aldi doesn't have an eco store, per se, but it has looked at trialling a green initiative at its Ulverston store, near the Lake District. At the start of April it launched its first refill station in a move which, if it was rolled out across the whole Aldi estate, could save 130 tonnes of plastic from landfill each year.
Like most of the others, the station is filled with a few varieties of household staples like rice and pasta but, in true Aldi style, at a significant discount to its multiple retailer competitors and eco indies.
The price even undercuts the cost of the packaged version at Aldi. Worldwide Basmati Rice is 10p cheaper per kg, while Cucina Penne Pasta, Cucina Wholewheat Fusilli and Worldwide Brown Rice are all 75p per kg from the dispenser. Packaged, the first two are 78p per kg and the last 79p.
What's also different is the Aldi trial doesn't currently allow shoppers to bring in their own containers. Instead they're asked to use the provided paper bags to take their goods through the checkout.
Waitrose Unpacked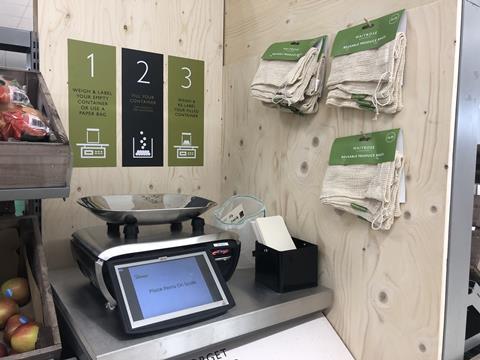 Waitrose takes a different approach to its sustainability store format. It decided to go with a separate Waitrose fascia called Unpacked, which started in Oxford in 2019 and has since expanded to Cheltenham, Wallingford and Abingdon. And it makes the most of the branding, which is plastered everywhere inside and outside of the store.
The original Oxford Botley Road location is 24,600 sq ft and, like at Asda Middleton, there's a big emphasis on refill stations. Waitrose offers 28 different dry products from its own-label range inlcuding pasta, cereals, dried fruit and couscous. It's also got a frozen pick and mix for fruit, with a selection of mango, strawberries, pineapple, blueberries and more, that can all be loaded into shoppers' reusable containers.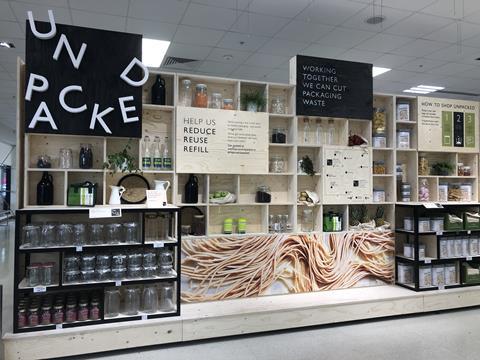 Refillable alcohol taps are not new to Waitrose, and it experimented with taps and 'growlers' (large amber beer containers) in its King's Cross store, so it's no surprise that the initiative also features at Unpacked. There are four different beers and four different wines on tap and shoppers can buy clear wine bottles or their very own growler to take it home with them.
One of the issues of going plastic-free with fruit & veg is that it rules out prepared vegetables from the range, which need plastic to stay fresh. This causes problems for a number of reasons, as many shoppers (including those who are elderly or disabled) rely on their veg being peeled and chopped. To get around this, Waitrose has brought in what is essentially a butcher for vegetables. The Veg Kitchen counter features two cooks who can chop and peel any unpackaged fruit from the aisles, cutting down on packaging for things like carrot batons, chopped onions and courgetti.
M&S Eccleshall Rd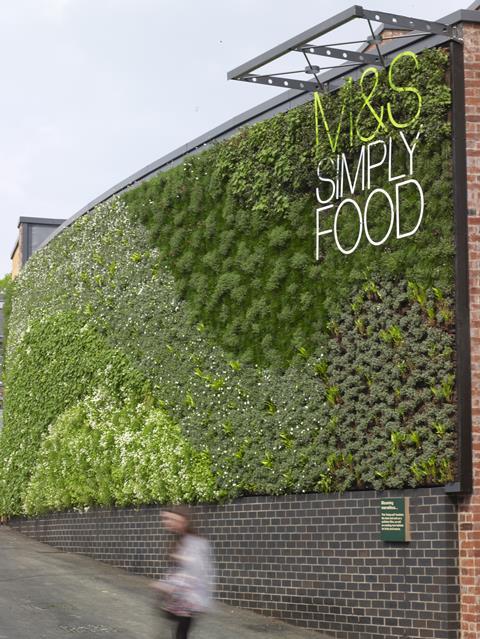 This store's construction was groundbreaking when it began in 2015, so much so that schoolchildren were invited to visit it during its construction to learn about sustainable building practices.
From treating and recycling the waste soil to using recycled aggregate bricks from an old mill, sustainability was considered at every turn for this build. The heating system is carbon-busting and uses waste heat generated from the natural refrigerant fridge system, the majority of the lighting is from natural daylight and there's a rainwater collection system that is used to flush the toilets. A few eco-techniques that are now staples when it comes to supermarket construction were first used at Eccleshall Rd.
And no eco-building could truly be complete without some greenery. This store has a green roof and living wall featuring bird boxes, insect chambers and indigenous planting that's watered through the rainwater collection system.