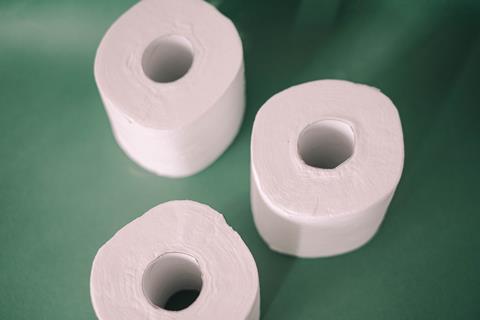 Toilet paper shortages are on the horizon again due a lack of preparation for new anti-deforestation laws this year, the boss of a toilet paper company has warned.
New EU rules are set to ban products linked to deforestation from May, and will have a "gigantic effect" on the toilet paper sector, said Chris Forbes, CEO of Cheeky Panda.
Many companies are still heavily reliant on virgin pulp as a raw material and so will struggle to make the operational changes – which could cost "billions of pounds" – in time for the new rules, he argued.
"There will definitely be a squeeze on availability and we can expect the price of recycled tissue to rise as demand for alternatives increases," Forbes warned.
He said "the vast majority" of tissue products – such as toilet paper, facial tissues and paper towels – sold in the UK and EU was still made of virgin fibres from newly harvested trees.
Some of the sector's disruptors, including Cheeky Panda and Who Gives a Crap, have turned to alternative sources to wood, such as bamboo.
In contrast, said Forbes, some of the biggest brand and own-label tissue suppliers would have to "spend billions of pounds on operational transformation" to abide by the new laws. "It will be hard to switch operations overnight – they would probably spend more money lobbying to change the legislation than making those changes," he said.
The EU's new laws will require all companies trading commodities like wood, coffee, soy and cocoa to follow strict due diligence processes to trade with the bloc.
Products linked to deforestation will be banned from import and export with the EU. This will also affect businesses either based or trading with the UK.
The regulation is expected to come into force in the second quarter of this year, with an 18-month implementation period for larger companies and 24-month period for SMEs.
A recent study by American finance company MSCI found that "preparedness does not appear to be high" among paper companies as less than 40% of businesses had a deforestation policy.
"Eliminating products rooted in deforested land from a supply chain is typically a major endeavour requiring extensive due diligence," MSCI researchers wrote in the 'Cutting deforestation: Market restrictions get real' paper.
"Firms that have been thinking of deforestation as an issue for somebody else or someday down the road, may have to get a handle on it and in a hurry."
Accrol, a maker of own-label tissue for most UK grocers, said it was fully prepared for the new EU regulation and supports the introduction of similar laws in the UK.
"We don't anticipate paper supply shortages as a result of these regulations but potentially a surge in demand for FSC certified, PEFC and other sustainably sourced stocks," said Accrol head of marketing and communications, Vikki Makinson.
"100% of paper sourced by Accrol is from FSC accredited suppliers and we believe all paper suppliers should adhere to these best practice industry standards.
"We welcome regulation that discourages environmentally damaging practices within our industry."
In addition to new EU regulation, the UK government also recently issued guidelines for businesses to stop sourcing virgin tree fibre products and transition to recycled materials instead.
Cottonelle and Kleenex maker Kimberly-Clark said it was committed to halve its use of natural forest fibres by 2025.
It was on its way to source 90% of its tissue fibre from "environmentally preferred sources" by the same year, it added.