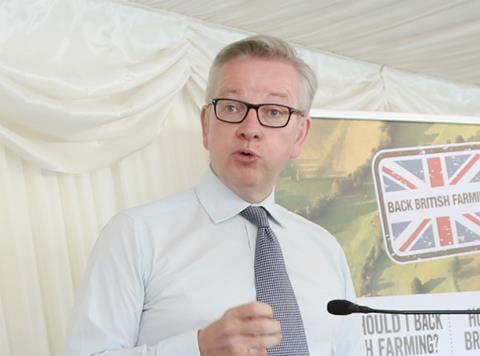 No matter what you might think of him, and whatever the next three months of Brexit-related madness holds, Michael Gove will go down as a far more effective environment secretary than predecessors Liz Truss, Andrea Leadsom or Owen Paterson.
After a series of policy moves (such as banning microplastics and the publication of a 25-year environment plan) that have repositioned him as a born-again environmentalist, today's launch of Defra's long-awaited Resources and Waste Strategy for England is another headline-grabber.
The 146-page paper lays out the government's ambition to "turn the tide on pollution" and create a circular economy by eliminating avoidable plastic waste over the next 25 years, while also eradicating food waste to landfill by 2030 and ending 'avoidable waste of all kinds' by 2050.
It will do this by standardising the current postcode lottery over which materials can be recycled and where, while finally compelling local authorities to offer separate weekly collections for food waste – an area where England lags way behind Wales, Scotland and Northern Ireland – in a move hailed by campaign group A Plastic Planet as a "giant step forward".
Among a host of other recommendations, there are plans to introduce a new bottle deposit return scheme by 2023 that will include single-use cups, in addition to a consultation on increasing the government's 5p plastic bag charge to 10p, and extending the scheme to small retailers.
It also intends to formulate a consistent standard of acceptable recyclable material for collection, alongside launching standardised labelling on packaging "so consumers know what they can recycle", in a bid to drive up recycling rates.
These are ambitious plans, that are not before time – but making the UK "a world leader in resource efficiency", as Gove puts it, will not be cheap.
The grocery sector, be they retailers or food manufacturers, will have to pay the lion's share of the cost of recycling or disposing of their packaging waste, through Extended Producer Responsibility (EPR) that will see industry pay higher fees if their products are harder to reuse, repair or recycle.
Defra says this will encourage more sustainable design, with EPR for packaging raising between £500m and £1bn a year for recycling and disposal. And the proposals have been largely welcomed by industry.
Wrap CEO Marcus Gover described EPR in particular as a "game-changer", while standardised food waste collections would play "an important role in reducing confusion for householders, increasing recycling rates and improving material quality".
Others such as the Anaerobic Digestion & Bioresources Association have called for action on food waste recycling before 2023, with 70 local authority waste contracts up for renewal before this point.
Meanwhile the BRC, while also generally welcoming, struck a rather more cautious tone.
Its director of food sustainability Andrew Opie noted plans for Scotland to launch its own DRS scheme when he questioned whether the government's call for "consistent recycling for every household" risked being undermined by the proposals being limited to just England.
Extending the DRS to coffee cups and glass would add "further significant costs to high street retailers already struggling with business rates and rents", he added, while calling for "government coordination and investment to build our recycling capacity and consistency".
And "further reassurances" were also required so that materials placed into recycling bins "are actually being recycled", Opie said, along with clarity on how the revenues raised from businesses "will be reinvested into recycling infrastructure".
Turning the UK into a greener, less throwaway society could become an unlikely epitaph for Michael Gove's time as environment secretary, but with a host of consultations to come on the proposals and the food and drink sector already worried over the cost of Brexit, getting industry to pay for it could well be his biggest challenge.