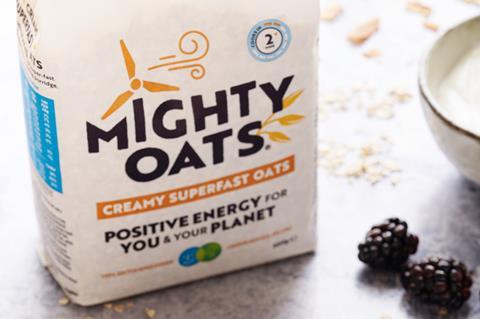 Mornflake has relaunched its Mighty Oats range in a bid to bolster its sustainability credentials.
A "clean, modern look" has rolled out across an initial four variants: Stoneground Oatmeal, Creamy Superfast Oats, Jumbo Scottish Oats and Organic Porridge Oats.
They feature the strapline 'Positive energy for you and your planet', which demonstrated a "commitment to a more sustainable future", Mornflake said.
The redesigned packs have already hit shelves at Tesco, Sainsbury's, Asda and Morrisons.
The oats now followed "a rigorous lifecycle mapping process to ensure an eco-friendly outcome", the brand added.
They went through a carbon neutral milling process, powered by Mornflake's own wind turbine and solar farm, which was assessed and measured by Climate Partner.
This produced zero waste, with any by-product being repurposed into animal feed and biofuel.
Additionally, the product range was wrapped in 100% recyclable packaging.
"We know consumers have high expectations when it comes to our responsibility as a brand to contribute to a greener future and this range is a testament to our ongoing commitment to sustainability," said Mornflake MD James Lea.
"We realise there's still work to be done – but this is a huge step in the right direction.
"We'll continue to focus our efforts into reducing our energy and water consumption further and will be closely monitoring our outputs to ensure we continue to evolve our sustainable product offering throughout the full lifecycle," Lea added.