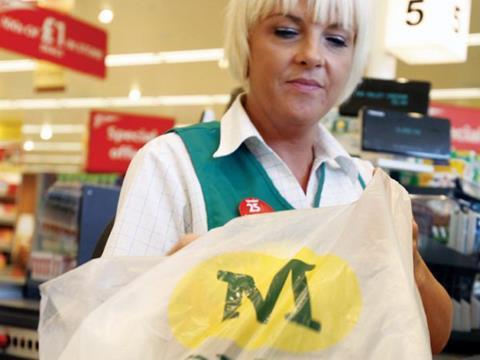 Morrisons has become the latest supermarket to commit to ousting all 5p single-use plastic bags from its stores.

Its decision to phase out the bags by the end of 2018, in favour of Bags for Life, follows in the footsteps of rivals Sainsbury's, Tesco and Asda.

Morrisons said it would start to phase out the single-use bags from March and it should be "a matter of months" before they were completely gone.

A Morrisons spokesman said it was listening to its customers, who were telling it they wanted to reduce the amount of plastic getting into the environment.

"We've already seen a big reduction in plastic bag usage since the 5p charge was introduced," he said. "The ambition behind introducing a charge on single-use carrier bags was to reduce their usage and we now feel the time is right to stop offering them altogether."

It had tested not offering plastic bags in a handful of stores and customers responded positively by using reusable bags.

Campaign group A Plastic Planet welcomed Morrisons move, but co-founder Sian Sutherland said supermarkets must do much more than simply banning single-use bags.

"We are so far behind in the UK - it's actually illegal to have a plastic bag in Rwanda. We need to pick up the pace here."

She urged Morrisons to introduce a plastic-free aisle at the earliest opportunity - something that had the backing of the public, business leaders and scientific experts, she said.

A Populus poll last year revealed that more than 90% of Britons supported the introduction of a plastic-free aisle.

"It's high time the UK's biggest supermarkets backed the move," said Sutherland.

The pace of announcements affecting use of plastic in the food chain has quickened since prime minister Theresa May declared war on "avoidable" plastic waste earlier this year as part of a 25-year plan to tackle what she called "one of the great environmental scourges of our time".

May said supermarkets would also be encouraged to introduce plastic-free aisles for loose food, and a consultation would be launched on all single-use plastics.