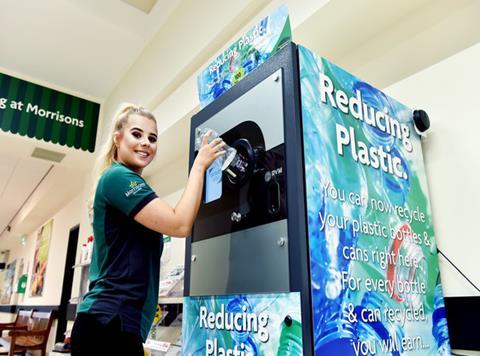 Morrisons has become the latest retailer to introduce reverse vending machines for plastic bottles into its stores.

The retailer has installed the machines in two stores, one in England in Skipton and the other in its Lindsayfield store in East Kilbride, Scotland.

Morrisons said it was trialling the vending machines for an initial six-month period as it aims to understand shoppers' responses to the technology and how it can be used to reduce the impact of plastic on the environment.

The machines accept all plastic bottles that have a barcode as well as Morrisons own-brand bottles that may not have one.
Customers can return a maximum of 20 bottles a day and will receive 100 Morrisons More points in the form of a coupon for each one brought back, which can be spent in store.

Shoppers could alternatively choose to donate the 10p cash alternative to the supermarket's charity partner, CLIC Sargent.

"We want to play our part in making sure plastic bottles are collected and recycled. We'll listen to customers as they use these machines," said Morrisons group corporate services director Andrew Clappen.

In May, Iceland became the first retailer to install a reverse vending machine in store. It has since added three more. The Co-op has been trialling machines at pop-up shops during summer music festivals, while Morrisons is set to join a coalition of companies, including Asda and M&S, that is set to roll out reverse vending reward machines in Leeds, in a pilot that could be expanded nationally.

The #LeedsByExample trial, which launches in September, will see new recycling facilities introduced on streets, in offices, shopping centres, universities and transport hubs, as well as a co-ordinated marketing campaign by retailers and suppliers to encourage more recycling.

Morrisons has also recently pledged to replace plastic bags for loose fruit and veg with paper alternatives.