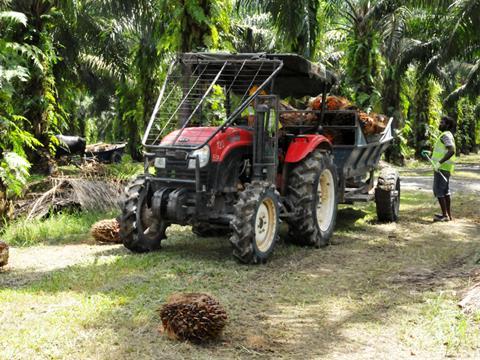 British food companies are leading the way in the use of sustainable palm oil, according to the fourth WWF Palm Oil Buyers Scorecard.

But while most are sourcing sustainable supplies, some are still not doing enough or even anything, adding to the pressure on rainforests and species such as Asian elephants, orangutans and tigers, the charity said.

The 2016 edition of the WWF Palm Oil Buyers Scorecard looked at 137 major food companies from across the world including Tesco, Sainsbury's, Morrisons, Walmart, Marks & Spencer, Waitrose, Mondelez, Ferrero, Young's, Warburtons, Kraft Heinz, Premier and Arla. It evaluated what they had done during 2015 compared with what they had said they would do.

"While we can report gratifying progress by many companies, too many fell short of their own commitments to their customers," said WWF palm oil lead Adam Harrison.

Similarly, too many companies were still hiding from the issue altogether, despite the easy availability of certified sustainable palm oil.

"More than half of the companies had promised us and their customers that they would be using only certified palm oil by 2015," said Harrison. "While most of them did achieve their targets, it is a disappointment that 21 companies did not."

The world's most popular vegetable oil was used in 50% of packaged products including many foods, cosmetics, soaps and detergents, as well as being a biofuel, WWF said.

However, unsustainable production of it caused deforestation and other impacts in tropical areas in South East Asia and increasingly in Africa and Latin America.

WWF's Living Planet report also found there had been a 52% decline in vertebrate species, showing that industries such as palm oil, which was expected to double production by 2020, had to be sustainable in order to protect habitats.

The WWF scorecard assessed companies on basic steps such as joining the Roundtable on Sustainable Palm Oil, committing to and buying sustainable palm oil, and transparency.

Dr Emma Keller, agricultural commodities manager at WWF UK, said the scorecard showed many UK companies were 'leading the way', giving British consumers confidence in many of the products they bought containing palm oil.

"British retailers, manufacturers and foodservice companies have shown that in less than a decade it is possible to move to sustainable palm oil supply chains," Keller said.

Keller called for all companies to commit to 100% sustainable palm oil and for others to follow while consumers had a role to play by demanding full participation and transparency of all palm oil buyers worldwide.