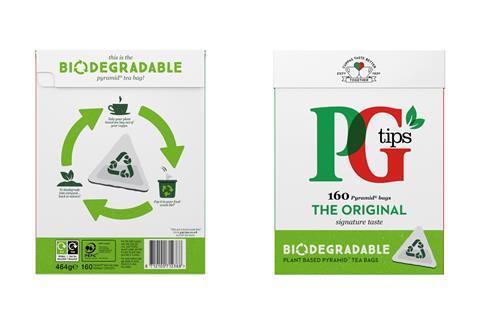 PG Tips has completed its transition to become completely plant-based.
The Unilever brand has now removed the outer plastic overwrap from its entire retail range.
In July 2020, it removed the plastic wrap from its 160-pack retail boxes, with plans to remove it from the rest of its pack sizes in the first half of 2021.
At the time, it also became the first major tea brand to make its teabags fully plant-based, by rolling out biodegradable bags made from corn starch across its entire retail range.
It originally debuted the biodegradable teabags across a limited number of SKUs in 2018.
The transition had "already made an impact, with a massive 757 tonnes of oil-based plastic saved from using biodegradable teabags and 46 tonnes of plastic saved from the overwrap being removed", said Unilever UK&I general manager for tea Fiachra Moloney.
By going completely plant-based, PG Tips would meet the "clear demand" among consumers "for a cuppa that not only tastes good but does good for the planet", Moloney added.
"We've also made it even easier for customers to make greener choices, with clear messaging of the biodegradable teabags on the front and back of the box", she said.
Last November, PG Tips launched a dedicated TV advert to drive awareness of its environmental credentials.
The ad saw a young girl hosting a tea party with an array of her soft toys. She told them they were switching to PG Tips, because its bags were biodegradable, while some of its rivals still used plastic.
The sustainability push comes after Unilever initiated a full strategic review of its global tea business in January 2020, with a sale of the brand reportedly on the cards.
At the time, CEO Alan Jope said the tea business had a "disproportionately large footprint in black tea, which is slower-growing" and a "long track record of being dilutive to growth and margin, so this strategic review announcement means we want to investigate how we can best create value for stakeholders".