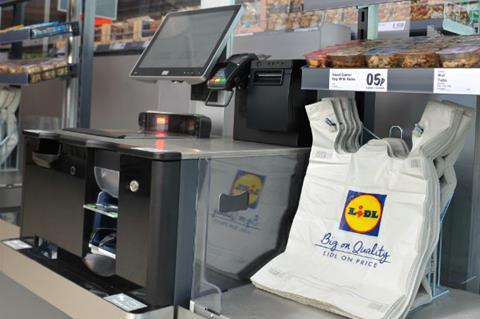 Campaigners are demanding supermarkets bring in new minimum charges for plastic bags, after research from Lidl showed the vast majority of bags for life were ending up going to landfill.
Last week the discounter announced a trial under which it will stop selling the 9p bags in 54 stores in Wales from 1 May. If successful, it plans to extend the move to all 750 stores, which it claims could reduce plastic by 2,500 tonnes, or 80 million bags, a year.

Lidl has given the full results of the study that prompted its trial to The Grocer. It shows sales of 9p bags for life at the discounter have doubled since it scrapped 5p single-use bags last year.

They also show less than 1% of bags for life are being returned to stores for replacement.

A spokeswoman for Lidl said the trial had "reinforced evidence that the 9p bag was being used as a single-use bag".

"Throughout the trial in Wales, we will be able to closely analyse the sales figures of our alternative reusable bags, and will also speak to customers to get a deeper insight into their response to the change, to see if this move is helping to drive behavioural change," she said.

But while the move, if adopted nationally, would make Lidl's cheapest plastic bag 38p, campaigners are calling for a much higher figure.
This week the Marine Conservation Society called for the government to massively increase the cost of bags for life to at least £1. This would be on top of its plans, announced earlier this year, to raise the cost of all single-use bags to 10p.

"While it is good news that both Scotland and England are likely to raise the charge for a single-use bag to 10p, there is growing evidence that customers are using so-called bags for life as a substitute," said Sue Kinsey, senior pollution policy officer at the MCS. "On average 44 bags for life were purchased per household in 2017. That's almost one per week.

"Bags for life contain much more plastic than single-use bags and therefore it is vital that their use is minimised. The simplest way would be to bring in a ban on plastic bags altogether, or at least charge bags for life at a price that to some extent reflects their environmental cost and discourages customers from using them as a single-use option.

"We believe that at least £1 should be charged in the UK for a bag for life. The greatest environmental wins will be made by encouraging customers to reuse the bags they already have rather than buying new ones. No bag, whatever it is made of, should be given away free. We should be striving first and foremost for a reduction in all single-use items, not the substitution of one single-use item for another."

Lyndsey Dodds, head of marine policy at WWF, added: "A staggering eight million metric tonnes of plastic ends up in our oceans every year, killing wildlife and threatening the health of our precious marine environment." WWF recently announced a partnership with Tesco to looks at ways to reduce its waste.