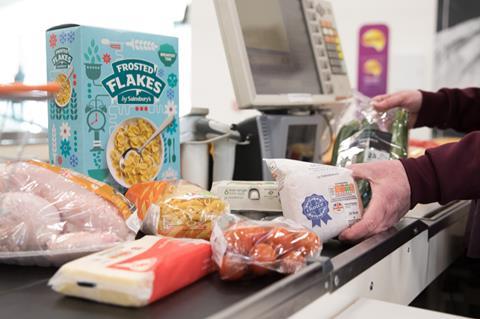 Sainsbury's has stepped up measures to reduce plastic waste with a set of new commitments after facing protests from Greenpeace.

The supermarket is to trial in-store 'pre-cycle areas' where customers can ditch unwanted packaging before taking it home as one of a number of new measures.

The announcement came after Greenpeace delivered thousands of tweeted and handwritten complaints about plastic to Sainsbury's HQ in London. Monday's action also saw protesters pushing trolleys filled with unwanted packaging collected from customers outside stores.

The new pre-cycle areas would mean food remained protected through the supply chain while allowing customers to immediately deposit packaging for recycling, according to Sainsbury's. The supermarket did not say how many stores the trial would be launched in or when it would begin.

Sainsbury's also announced it would stop using dark-coloured plastic for its fresh food lines by the end of 2019 and entirely by March 2020.
In other new measures, plastic packaging would be eliminated from its Christmas crackers this year and removed from sweetheart and savoy cabbages as of yesterday (30 April).

The retailer said eradicating plastic from its sweetheart and savoy cabbages would cut 100 tonnes of plastic over the next year.

The moves are the latest in a series of commitments and measures by the supermarket to cut plastic waste.

A spokeswoman denied there was any link between the protest and the latest announcement. "We have a long and proud track record for sustainability," she said. "For example, we were the first retailer to ban microbeads in 2013, water bottles have contained 25% recycled content since 2011 and 68.7% of our plastic packaging is widely recyclable. This is about updating our customers on our progress cutting plastics while making further bold commitments."

Sainsbury's CEO Mike Coupe said: "We are serious about reducing plastic. For many years, Sainsbury's has prioritised sustainability and sought innovative solutions to reduce plastic packaging and increase recycling.

"These announcements show what we have already achieved and demonstrate our firm commitments for the future to make significant reductions in plastic use."