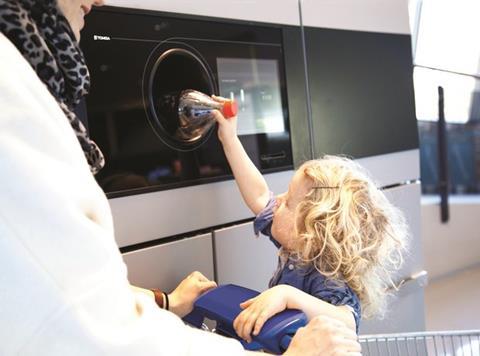 Scotland looks increasingly likely to go it alone with a new bottle deposit return scheme (DRS), despite warnings of cross border chaos from business leaders.

With the UK government's official consultation on DRS still yet to emerge, despite plans announced by Defra secretary Michael Gove in March, sources said his aim to pass legislation for England and Wales by 2020 were looking "increasingly ambitious".

"What we have is a resigned acceptance that DRS is coming to Scotland first," said one leading supplier source. "Scotland is at least a year ahead and it looks as if any chance of having one system rolled out across the UK is fading, not least because of Brexit."

The Grocer has learned the Scottish government is now in talks with a series of companies looking to provide the infrastructure for the DRS.
One company, Norway-based Tomra Collection Solutions, which has an 80% share of the global reverse vending machine market and is involved in trials of DRS machines with retailers including Tesco and Iceland, said it had urged Scottish ministers to push ahead first.

"I believe Scotland will push forward. I don't think it's possible for England to be ready by 2020 but Scotland could go ahead and England follow in 2021," said UK managing director Truls Haug.

Tomra said it believed Scotland could act as a possible "showcase" for the benefits of DRS and said it believed fears about a lack of a joined-up system were exaggerated.

"I don't believe it will cause chaos by having a different system in Scotland to the rest of the UK," said Haug. "The biggest cost producers will face is having different bar codes and labels but they will be able to have two different lines - one for Scotland and one for England. I think the big players are ready, they know what to do."

Tomra already collects 35 billion beverage containers each year across 82,000 installations in Europe and further afield. It is believed to be one of around 10 companies in talks with Scottish ministers about providing reverse vending machines in supermarkets and smaller retail outlets.
"It's no wonder companies want the Scottish government to go ahead. They are tripping over themselves to become providers and the maintenance fees for this equipment alone are huge," said the supplier source.

"But it's ridiculous to play down the potential issues of having different systems across borders.

"The cost of products in Scotland having their own labelling is going to be massive and that's before the costs of paying for the machines."

Last month Coca-Cola boss Leendert den Hollander said any new DRS needed to be as simple as possible for consumers, run by a single non-profit body and "there must be one scheme or indeed complementary schemes operating across Scotland, England and Wales".

In September the Scottish Retail Consortium warned a standalone system in the country would drive up the prices of goods north of the border and lead to labelling chaos for suppliers.

It also warned the cost of the required return vending machines alone - with the consultation suggesting 17,000 machines may be needed in Scotland - could be £280m for Scottish businesses alone.