Paper packaging is gaining ground as supermarkets and shoppers look to ditch single-use plastic. From spirits bottles made from wood-fibre to cardboard-based crisp tubes and recyclable paper sweet pouches, here are some of the most innovative products to hit shelves from the UK's biggest food and drink brands.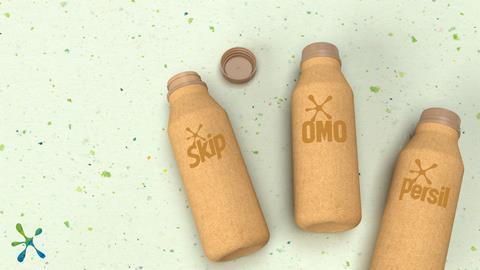 Unilever: A 'world first' with paper-based laundry detergent bottle
Earlier this month, Unilever revealed what it claimed to be the world's first paper-based laundry detergent bottle. A prototype has been developed for leading Brazilian laundry brand Omo and is set to debut early next year. A wider rollout in Europe beckons, which could see the format come to the UK (where Omo is better known as Persil).
The bottle is made from sustainably sourced pulp and designed to be recycled in the paper waste stream. Unlike other liquid-holding paper packaging, the bottles have no plastic lining. Instead, they are sprayed inside with a proprietary coating that repels water, "enabling the paper-based packaging material to hold liquid products".
Unilever is currently piloting the same technology to create paper-based haircare bottles. "To tackle plastic waste, we need to completely rethink how we design and package products," says its chief R&D officer Richard Slater.
There are other, smaller moves at play, too. In May, Unilever announced its Colman's brand would switch its Meal Makers sachets into fully recyclable, paper-based packs. The new packs are set to save over 240 tonnes of material being sent to landfill.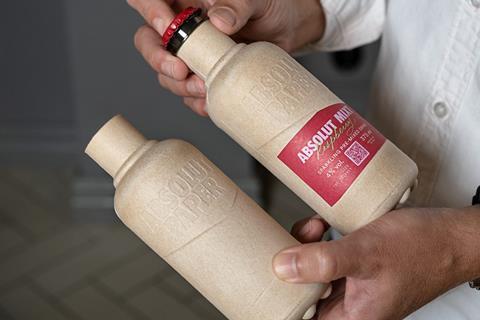 Carlsberg & Absolut: Booze brands 'think outside the box' with prototype paper-based bottles
Booze brands Carlsberg and Absolut have been working for several years on paper bottles. They've now developed prototypes, 57% of which are made from sustainably sourced wood fibre. The first test batch of 2,000 bottles were launched in August last year.
"We're allowing ourselves to truly think outside the box, both in terms of design and sustainability" says Niclas Appelquist, director, future of packaging at The Absolut Company.
But there are limitations to the design. Within the bottles is a thin layer of plastic – making up 43% of the packaging's content – which is recyclable but must be stripped from the cardboard outer layer before it is disposed.
Recognising the issue this creates, the brands are working "towards a solution without plastic".
That's in collaboration with The Paper Bottle Company (Paboco), a joint venture between packaging company BillerudKorsnäs and bottle manufacturing specialist Alpla. The brands are in good company. The Coca-Cola Company and L'Oréal have since joined Paboco's "paper bottle community".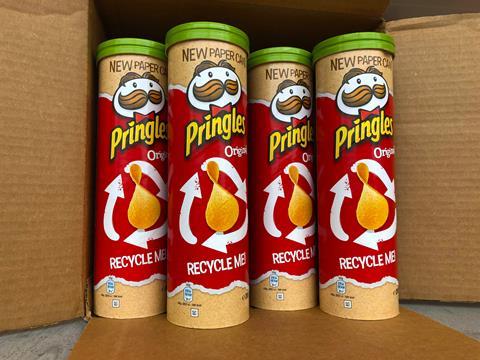 Kellogg's: Paper Pringles trial gets shoppers on board
With its cardboard outer, polymer and aluminium (PolyAl) inner lining, steel base, foil tear-off lid and plastic cap, it is little wonder the Pringles can has been dubbed "number one recycling villain" by the Recycling Association.
In September and October last year, the Kellogg's brand trialled two new crisp tubes made from recycled paper in the UK: one with a paper lid, the other plastic.
The trial was small – the designs were used only for 200g Original packs, in a small number of Tesco stores in East Anglia, for a period of six weeks. They also meant compromise, in that the crisps had a shelf life of 15 months. But a consumer survey showed a positive reaction from shoppers. And Kellogg's says it can "potentially make this at scale".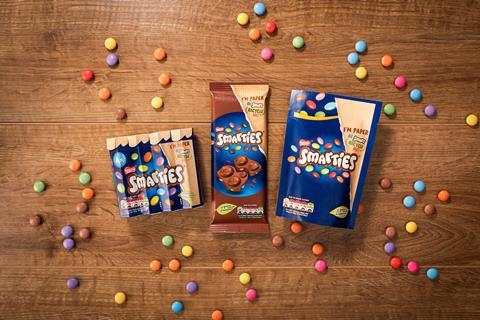 Smarties claims a confectionery first
In January, Nestlé announced its Smarties brand was moving to recyclable paper packaging for all its products worldwide, claiming a first for a global confectionery brand.
It was no easy feat. "Paper has different functional properties to plastic," Nestlé told The Grocer. "It's more fragile and requires innovative technologies to provide protection as and ensure food safety and quality is not compromised.
"We knew this would have a real impact but it is complex," Nestlé adds. "Machines and processes designed to run plastic had to be adapted to run paper, for example."
There was also the issue of functionality to take into account. The full Smarties switch – which started with the introduction of Smarties sharing blocks packed in recyclable paper in the UK last year – came after considerable testing in real world conditions.
"When we were testing the paper, we exposed the packaging to different scenarios as if it were in the supply chain. For example, during transportation, on the shelves or while consumers are shopping. We would put the product on a pallet, send it to a distribution centre and back again.
"Then we meticulously analysed thousands of packets for marks, defects, and punctures to understand how the paper packaging would perform while moving from our factory to the shelf," the company explains.
While Smarties is most mature in its use of paper packaging within Nestlé, the company is also experimenting with paper for its Vittel bottled water brand in France. Last month Nestlé unveiled a 100% recyclable one-litre Vittel 'hybrid' bottle made up of an ultra-thin plastic bottle made entirely from recycled content, surrounded by a fibre-based material made from 100% recycled cardboard and old newspapers.
The layers lock together "to create a functional, sturdy water bottle that can be easily used without any damage" says Nestlé.
It's all part of Nestlé's wider commitment to make 100% of its packaging recyclable or reusable by 2025. The available infrastructure for paper makes it "a desirable material". But the company is clear it's not "just about switching plastic for paper". Changes are considered "holistically during the development process to ensure that we don't solve one problem, whilst creating another, for example increasing food waste".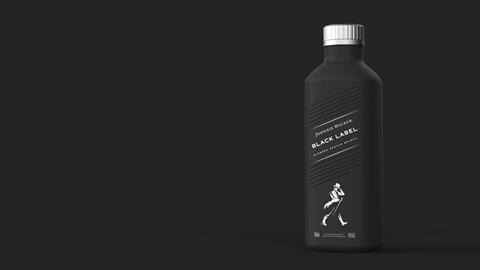 Diageo: Creating the 'world's first' paper spirits bottle
Last year, Diageo claimed to have created the world's first ever 100% plastic-free paper-based spirits bottle, "made entirely from sustainably sourced wood" (and fastened with an aluminium screw top). It debuted this year for its Johnnie Walker scotch whisky brand.
Diageo's bottle wins extra points for being resin-lined, rather than lined with plastic, says Jack Holloway, industrial design lead at agency Landor & Fitch.
The design "uses card pulp to form its bottle structures and goes a step further from the trials run by Absolut and Carlsberg over the last few years, as their technology still uses a plastic lining," he explains.
The bottle is made by Pulpex, a sustainable packaging technology company created by Diageo and venture management company Pilot Lite.
Like Paboco – the paper bottle specialist that works with Carlsberg and Absolut – Pulpex has worked on a consortium of fmcg brands in "non-competing categories", including Unilever and PepsiCo.
"We are constantly striving to push the boundaries within sustainable packaging and this bottle has the potential to be truly ground-breaking," adds Diageo chief sustainability officer Ewan Andrew.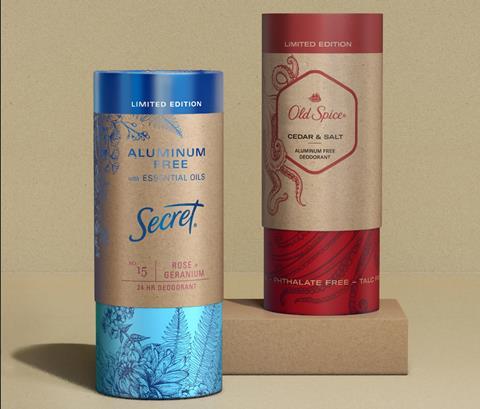 P&G: Testing out paper for roll-on deodorant
Last May, P&G began a trial of all-paper, plastic-free roll-on deodorant packaging for select Old Spice and Secret lines. The paper tube design is made of 90% recycled paper, and certified by the Forest Stewardship Council, and has been made available at 500 Walmart stores in the US.
Consumer surveys are underway, but if the response is positive the company says it will extend use of the packaging across more of its product lineup.
"If we convert just 10% of our current deodorant packages to recycled paper or another recyclable material, it could eliminate up to 1.5 million pounds of plastic waste annually," says Anitra Marsh, associate director of global sustainability and brand communications at P&G Beauty.
Plastic Free July 2021: what it means for supermarkets and shoppers
1

2

3

4

5

Currently reading

Six of the best paper packaging innovations in fmcg

6