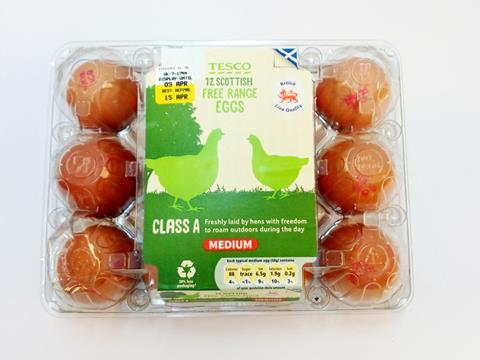 Tesco has told suppliers it will ban all packaging unsuitable for recycling as from next year, as it steps up the war on plastic.

The UK's biggest retailer is planning to move to a "closed loop" system, which will include a cull or redesign of a raft of different types of packaging currently commonplace on supermarket shelves.

Jason Tarry, Tesco's chief product officer, made the announcement at the retailer's IGD briefing in London today.

Products Tesco will ban include PVC, polystyrene, oxo-degradable materials, PLA (Polylactic acid), water soluble bioplastics and industrial compostable materials.

The retailer said it was also consulting on other materials that could either be developed as part of the closed loop or be culled from the business.

These include cellulose and NatureFlex, oriented polypropylene, black plastic, polypropylene and complex laminates.

Tesco has published a list of products it would support including sustainably sourced wood, board, paper and glassine, PET, glass, polypropylene (non-food), HDPE & LDPE, polyethylene (its preferred material for flexible film), steel and aluminium.

Tarry said the retailer wanted to work with the supply chain and the government to improve recovery and recycling and boost the national recycling infrastructure. He called on ministers to do more to provide a consistent recycling infrastructure.

"We are committed to reducing the total amount of packaging used across our business," he said. "Ideally we would like to move to a closed loop system.

"We will work with our suppliers to redesign and reduce all packaging materials and after consultation with our leading suppliers earlier this year we will remove all packaging that is hard to recycle from our business by 2019.

"To complete the journey to a closed loop approach, we stand ready to work with government to reform the current approach to recycling in the UK."

The move is the latest and most significant yet by Tesco in its war on plastic. In January it revealed its support for a deposit return system in the UK and said it was working with suppliers to develop a way for it to be rolled out "at scale".

In March The Grocer revealed Tesco had joined forces with companies including Coca-Cola, Co-op and Heineken to draw up proposals to offer local authorities a new market for the recycling of bottles, which they believe could prevent thousands of tonnes of plastic bottles going to landfill.