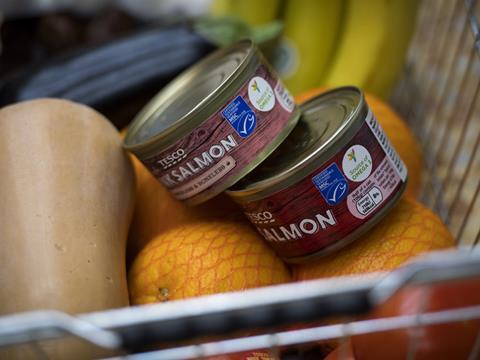 Tesco has vowed to halve the environmental impact of the average shopping basket, after announcing a four-year partnership with WWF that will include helping consumers to slash their meat consumption.

The supermarket giant said it would work with WWF to develop a pioneering new measure of environmental impact.

In an exclusive interview with The Grocer, Tesco CEO Dave Lewis said the UK needed an "ambitious strategy" to make food more sustainable.

The aim of the new partnership was to slash the environmental impact of the average UK shopping basket by 50% while ensuring food remained affordable, said Lewis, with the initiative set to take into account climate change, biodiversity loss and food waste.

New research by the partners claims nearly 80% of shoppers want supermarkets to do more to offer food that is sustainable, but 59% are confused about which foods count and 75% believe cost is a barrier.
"This partnership allows us at scale to think more about the sustainability of food," Lewis told The Grocer. "It's the first time WWF have worked with a retailer on this scale. The food industry needs to work out how to make food affordable, healthy and sustainable. All the initiatives we're working on add up to achieving that broad goal."

The proprietary research - which Tesco plans to share with suppliers and rivals alike as it has with its work on food waste - will be conducted within 6-12 months.

"The first thing we'll do is to take and assess the full spectrum of impacts across an average basket and assess them and set ourselves the target to halve them," said Lewis. "Working more productively is an absolute imperative for everyone in the supply chain, in the UK and around the world. So the work we might do and the signals we send out to our supply chains to achieve greater productivity could be very important.

"The other interesting thing is Brexit, and it throws up an interesting question for the UK. What is our food strategy? What do we want to do as a nation to incentivise and encourage the production of sustainable and affordable food here in the UK?"

Lewis said a key part of the plans was to look at ways Tesco could encourage shoppers to eat less meat.

"Will meat still be available? Yes. But will other choices also be available? Yes. We will play our part in making sure meat in the diet plays a lesser role."
He said Tesco aimed to make sustainable products cheaper than others and would consider delisting those that weren't.

The Tesco boss said the new plan would run along similar lines to its plans, fronted by celebrity chef Jamie Oliver, to tackle obesity.

"Working with Jamie and our suppliers we've looked to provide a more affordable, healthy choice. We've also taken out unhealthy products that can't be reformulated.

It allows us to engage with suppliers with a slightly different agenda. They struggle at the moment on how to respond, as there's no measurement, so we hope that in doing so, we can offer the intelligence they need to make choices of their own. "

"We know we are using our resources too quickly for them to recover," WWF UK CEO Tanya Steele told The Grocer. "We've lost 60% of our wildlife in the last 50 years. What sits at the heart of this is how we consume food. We need a partnership with a major organisation to make a meaningful difference.

"That's not to say we need to switch to a plant-based diet entirely. We need to make sure it's sustainable, for example in terms of soy production, which comes from miles away, and we need to send signals to producers."