Delays, government infighting, industry concerns: the rollout of a DRS has caused havoc. Could a digital element be the solution?
Seldom have three letters been responsible for more political infighting and environmental debate than DRS.
Now an extra letter has been thrown into the controversy of the deposit return scheme, as the government mulls over the possibility of a digital version – or DDRS. The proposals could stop consumers having to lug empty bottles back to the supermarket and, crucially, reduce retailer costs.
It's looking like an increasingly likely option, as the original plans have been stalled by the pandemic and fears over the cost of implementation have grown.
Governments and some parts of the food and drink sector are now asking if DDRS should form at least part of the plans, or even replace the original proposals.
So, how would a DDRS work? And could it make the previous proposals redundant before they have a chance to get off the ground?
Various different trials of DDRS technology are already underway, but they all involve a similar premise. Rather than shoppers being forced to bring their bottles back to retailers, they will be able to use a unique scannable code to signal they have recycled them in either kerbside collection or a 'smart bin'.
A government consultation in February suggests it is very much open to this direction of travel. Although Defra stipulates it does not expect technology to entirely remove the need for a network of in-store reverse vending machines (RVMs), which represent a major part of the costs involved, several industry sources believe that could change.
Especially as DRS is set to command a price tag of more than £1bn for the first year and £800m thereafter in England alone, according to the Institute of Economic Affairs.
There is certainly time for a rethink. In December, The Grocer revealed plans for a DRS system in England had been delayed until the end of 2024 at the earliest. That was amid a pushback from retailers, who claimed they were too busy trying to deal with the fallout of the pandemic to install the required infrastructure. That delay was confirmed by ministers in the consultation launch in February.
Meanwhile, plans in Scotland have been similarly subject to delays. Its DRS system was due to be launched in July 2022, having already been pushed back once. But now it's undergoing a further inquiry, which looks likely to precipitate a further setback.
Supporters of DDRS are taking advantage of the long lead time to wage a PR war against the conventional DRS system in place across 40 countries worldwide.
They have claimed the system is vulnerable to fraud and that the £15,000-£100,000 cost per RVM is simply not practical for many smaller retailers. Plus, these retailers could struggle to find space.
With COP26 in Glasgow on the horizon, questions are also being raised about the carbon impact of a DRS that relies on these machines. After all, the model would potentially see customers make extra trips in their cars to return bottles, and would force recycling lorries to make extra collections from retailers.
How does a digital DRS work?
Eligible beverage containers are serialised with unique, traceable numbers assigned to individual saleable units, through the use of, for example, QR codes
Individual marking enables beverage containers to be tracked throughout the value chain
Rather than relying on RVM infrastructure, DDRS utilises digital-led tools such as hand-held devices, apps or smart bins (with the ability to both scan the code and collect material)
This allows for additional redemption points through smart bins in public spaces and/or at-home kerbside containers
Small-scale trials
In the meantime, DDRS players are testing out their systems in the real world to build their case. Comparatively small-scale trials of have already been held in Northern Ireland and Wales. Now, The Grocer has learned a raft of major retailers and drinks brands are lining up a new, much larger-scale trial, which could see a large UK town or city become a guinea pig for the digital technology. Talks are still underway to decide when it will launch, but it hopes to involve all major supermarkets.
At the helm of this project is the Digital DRS Industry Working Group (IWG), led by Eric Randall, director at Northern Ireland-based kerbside recycling firm Bryson Recycling, and Ray Georgeson, a former founding director of Wrap and key government advisor on waste. The group has plenty of retailer clout, with support from the BRC, Aldi, Co-op, Lidl and Ocado. The likes of Diageo and Danone are representing suppliers, and industry bodies such as Alupro, British Glass, Recoup and Biffa are also on board. Plus, the group has held preliminary talks with Tesco.
For the IWG, formed last autumn, the delays to DRS were a chance to "pause for breath" and explore the most efficient and least costly solution. That may be a system that is unlike anything already out there.
"Everybody talks about the Nordic model of DRS but the fact is a DRS system has never been tried where there was an existing successful kerbside collection system," adds Georgeson, who points to estimates that DRS will reduce kerbside collections by as much as 40%.
The group's aim is to get an independent perspective on the potential for DDRS. It has already entered into a research partnership with the Welsh government and Wrap Cymru, committing to a collaborative approach to research and potentially trial DDRS schemes.
Consultants Resource Futures have been commissioned to evaluate the impact of DDRS on the quality of materials collected for recycling and compare the projected costs and collection rates of a digital model with conventional DRS, in a report that is due out later this month.
"We have assembled a diverse range of industry representatives, but it doesn't follow automatically that everyone is gung-ho in favour of DDRS," says Georgeson. "Informed advocacy comes with evidence and that is the purpose of this group."
"We recognise that we need evidence to prove DDRS can work," he adds. "Questions have been raised, for example, about how you can get QR codes into cans, how it works with the scale of production involved. For that, a full-scale trial is needed.
"We still have an open mind. Despite what critics say, we are not against DRS and this is not a delaying tactic," he stresses. "We sincerely believe if DDRS can be proved to be effective it could end up saving the county an awful lot of money."
That sentiment is echoed by Tony McGurk, chairman of CryptoCycle, which spearheaded the smaller trial in Northern Ireland. He claims it is time to recognise that the traditional model for DRS, which first saw the light of day in Sweden in 1984, is outdated.
"Existing RVM-based DRS models have been around for over 30 years and the world has moved on since then," he says. "We now live in a society where people don't want to be part of the process but they do want to be part of the solution.
"Ask most people if they want to save the planet and they will say yes – tell them they need to collect their bottles and travel several miles to do so, and they will find a reason not to," McGurk adds.
"Digital DRS marries the need for instant convenience and gratification, with the positive outcome of doing the right thing."
McGurk stresses that doesn't mean he is "anti-RVM", and believes they have a place in high-footfall areas. But his crucial point is this: "Whichever research numbers you look at, they all point to a conventional model needing a huge amount of investment. A digital DRS reduces the cost significantly – with no need for expensive RVMs or additional waste infrastructure."
Duncan Midwood, a former partner in Cryptocycle, also claims it is time to accelerate the rollout and "fast track" the digital proposals. Although his split from the company in 2020 illustrates how the race to come up with technological solutions has provoked differing opinions on the way forward.
"Digital DRS marries the need for instant convenience with the positive outcome of doing the right thing"
For him, the financial argument speaks for itself. "RVMs are sited in central locations – primarily large supermarkets – and consumers are expected to bring their waste to them," he says. "Defra modelling has indicated a UK DRS would employ approximately 36,500 RVMs with an average cost of £30,000, resulting in capital over £1bn. Clearly this investment then has to work for 10-plus years in order to justify and amortise the investment.
"Further operational costs of a conventional DRS include the provision of counting centres and audits of producer volumes," he adds. "Defra has modelled a cost across the UK up to £37m per annum for counting centres."
Midwood also claims RVMs are "inherently inflexible". "They are only able to process cylindrical packaging formats (such as cans and bottles) and, as they require shape verification, they cannot accept squashed containers. As packaging develops, it is likely new formats will emerge and non-DRS packaging (such as cartons or pouches) may grow in popularity. They also cannot manage single-use cups.
"As a digital DRS system does not rely on the physical form of the container, it is unrestricted in which packaging formats it can process," he adds. "All that is required is for a unique code to be printed on the packaging items."
He believes this flexibility will prove increasingly critical in the coming decade – and that only a digital solution will be able to keep up "with the evolution of consumer goods without significant capital outlay or infrastructure change".
What government says about DDRS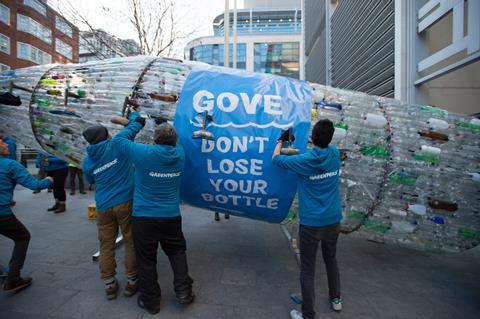 Lower cost
In the government's February consultation on DRS, ministers said a digital version would "reduce, but not eliminate, the need for fixed reverse vending machines". That would cut costs. "We are not envisaging removing the proposed requirement on retailers to act as return points, but if the DDRS can utilise existing household collection infrastructure the number of containers going through the retailer route would be reduced."
Easier to use
The consultation hails DDRS as a "more flexible and easier-to-use option for the consumer", adding that the use of a unique identification code on individual containers means once the deposit is paid, the deposit value on the container is lost. "Therefore, a bottle cannot be returned multiple times. This potentially mitigates against fraudulent activity."
More flexible
Unique identification codes on individual containers would allow variable deposits to be used, removing the disparity of overall cost of a multipack vs a single larger individual bottle.
Quality material
The jury is out on whether a digital system would result in the same quality. "We are still working to understand how such technology can be used whilst ensuring materials are collected to the high standard required by an RVM," it says.
External support
Crucially, it's not just a case of technology companies touting their own wares. There are plenty of external players also buying into the potential of a DDRS.
According to one leading supermarket source, the concept has gone from being "a bit of a novel idea" to a serious contender in tackling concerns over the huge costs of installing the sizeable machines across thousands of stores.
"Shopping habits are changing massively and have been accelerated by Covid, so we've got more and more shopping from home," adds the source. "This digital DRS solution, if it works, could tick so many boxes.
"It would be easy to recycle on the go in the home, you could claim a deposit, still be able to support local kerbside collections and you would still have a return to retailer part as well. It seems to be much easier for the public and will arguably give a higher recycling rate than just a return to retail model.
"And, God forbid, if we are going to have Covid around, people would be reluctant to go to stores just to return some bottles. Especially in big urban areas where you could have small stores and queues and queues of people returning bottles."
The source is encouraged by the results of the Northern Ireland trial, but wants to see how the larger-scale trial goes before drawing conclusions.
DDRS could also win round those in the glass industry who bitterly oppose plans to include the material in the scheme. Last month, more than 20 organisations from across the glass packaging supply chain wrote an open letter calling on George Eustice to keep glass out of it, in favour of maintaining existing kerbside and bottle bank collections.
Many believe the glass industry is fighting a losing battle. So a digital system could be a compromise. "If there is an insurmountable political argument for glass to be included in a DRS, then we should look to the future and ensure the system is digital," says Matthew Demmon, owner of waste glass company MKD32.
"The technology for QR code/blockchain/smartphone systems exists or will be available before an old-fashioned RVM-based DRS could be implemented," he adds. "Installing traditional DRS has been likened to installing thousands of ATMs while everybody moves to online banking." He said as much to the House of Commons environmental audit committee inquiry.
In his response, he argued a digital system would "add the carrot/stick approach of charging and recovering a deposit, but without the extraordinary disruption that is proposed".
"It simply cannot be ignored that moving one and a half million tonnes of glass each year out of household waste into reluctant supermarkets and small retailers is likely to generate significant aggravation to the public and an additional CO2 burden that has not even been estimated,"he adds.
What the DDRS trials have shown
Northern Ireland became the testbed for the latest DDRS technology in November. A total of 2,000 households took part in the four-month trial to evaluate the feasibility of using at-home and on-the-go facilities for returns.
In a partnership between Bryson Recycling, CryptoCycle, Britvic Ireland, PepsiCo and Spar, customers bought their plastic and glass bottles, aluminium and tins at a local Spar shop. Each item carried a unique QR code. Consumers scanned the code into the Reward4Waste app to show they had returned the packaging into their own household recycling, or into a range of public 'smart bins' marked with a unique code.
Residents earned 20p for every soft drink bottle they recycled and 10p for wine bottles and aluminium cans. These sums were paid into a digital wallet on their smartphone, and could be either exchanged for cash to spend in a designated store or donated to charity.
The results seemed promising. Independent evaluation from Queen's University Belfast found 95% of respondents agreed or strongly agreed that the Reward4Waste app was easy to download, 86% agreed or strongly agreed that the Reward4Waste app was easy to use during the trial and respondents liked the option of giving to charity, as proven by 45% of all Reward Points being donated.
As a result, the evaluation had this to say: "The rollout of a UK DRS should consider a digital DRS approach instead of, or at least in addition to, a conventional DRS. The digital DRS allows consumers the convenience of recycling at home, which is the preferred option."
A similar trial took place in December in Conwy, Wales, involving Polytag, Conwy County Borough Council and Wrap. Households were given a set of bottles tagged by unique Polytag markers, which can be scanned using a free app to receive 20p for returns. The results of this trial are yet to be compiled.
Distraction tactics?
However, support for DDRS is far from unanimous. Some powerful players in the industry see it as a "distraction" that risks bringing even more chaos to an already massively delayed DRS rollout.
"Our view is that we need to be very careful not to sleepwalk into having three different schemes," says one leading soft drinks supplier source.
"It's complicated enough that we are having to deal with the rollout of different systems in Scotland and England. Two systems is confusing, if we then have Wales making it three, that's just a joke."
The source claims trials such as that in Wales are driven by politics more than anything. "The Welsh government has been openly quizzical about DRS and its impact on kerbside schemes. This goes a long way to explaining why they are so enthusiastic about DDRS.
"The technology is not proven and there is a real danger it will prove to be a distraction that delays genuine progress," the source concludes.
Truls Haug, CEO at the world's biggest DRS reverse vending provider Tomra, also points to limitations in the potential of DDRS. He denies that companies like his are allowing vested interests to get in the way of new technology – quite the opposite, in fact. Haug cites as evidence the fact that Tomra's RVMs all have the capability to read digital codes.
"Digital DRS is simply not ready to be implemented as a complete system in its current state"
"There are both pros and cons but we do not see DDRS as a threat," he says. "I believe it will be part of schemes for years to come but there are some challenges."
Haug says the limitations include how to print unique codes in a reliable and cost-effective manner. There are also concerns over DDRS leading to a significantly increased number of redemption points, fuelling concerns over how the collection could be cost-efficient.
"Digital DRS is simply not ready to be implemented as a complete system in its current state," says Haug. "The change needs to be practical and operational. This is true for any market to date, including the UK. That doesn't mean we are against it."
Indeed, he accepts the need to move with technological developments. The times are changing, he says, "and as operators we have to be ready to change too".
Such a Dylanesque line might not be the sort of thing you'd expect from companies making reverse vending machines. Then again, few would have expected those three letters of DRS to have caused such massive ructions already, with months and possibly years before any system in GB even sees the light of day.
So by the time a return scheme finally gets off the ground, that extra letter representing the digital element may have had a far more transformative impact than anyone could have imagined.
Is conventional DRS vulnerable to fraud?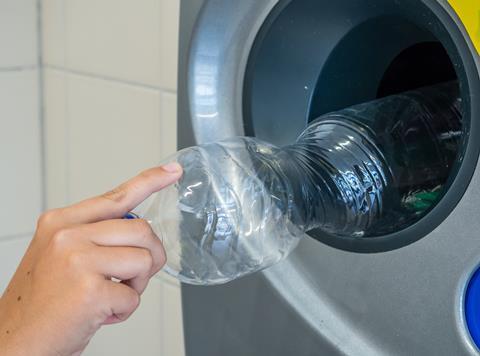 Scottish environment secretary Roseanna Cunningham branded it a myth propagated by opponents of the DRS, in the same way opponents had used it to try to stop minimum alcohol pricing in the country.
Yet one of the big arguments for a joined-up DRS between Scotland and England has been the potential for what drinks bosses claim is "industrial-scale fraud".
Lorry loads of 24-pack canned drinks from England travelling to Scotland could see their value increased by £15,000 for potential crooks, drinks bosses have claimed.
There are also claims reverse vending machines (RVMs) are intrinsically vulnerable.
Unlike digital systems, RVMs operate without unique codes, meaning items can be 'recycled' more than once.
According to Zero Waste Scotland, the estimate of fraud in a Norway-style DRS is up to 2% of collected revenue. If that was scaled across the UK, critics suggest annual costs would reach over £100m.
"While RVMs are designed to limit multi-claim fraud, they rely on the operators' integrity to ensure minimal fraud across the overall system," says Duncan Midwood, a former partner in Cryptocycle.
"One example of operator fraud was given in Norway. It was noticed there seemed to be a mismatch in the received volume of recyclate compared to the claimed reimbursement to the organisation. What transpired was that this organisation had disabled the crushing operation at the back of the RVMs and, instead, diverted the collected material into a bin.
"Out of hours they were feeding the collected material back into the RVMs, so double-counting the containers to boost their reimbursement income."
Then there are the cases of individual fraud. In 2018, a German man was prosecuted after allegedly making more than £1m through illegally manipulating DRS machines.
The man shredded the mechanism on two machines, allowing him to claim back deposits for the same bottles over and over again. With each plastic bottle usually earning a 25-cent return, he would have had to "recycle" his set of bottles 4.8 million times.
In contrast, the use of unique codes in DDRS means no item can be recycled more than once – minimising the potential for fraud.
Supporters say unique coding also identifies cross-border contamination, another avenue for potential crooks out to exploit DRS.

Ian covers Tesco, Asda and Morrisons among the major retailers. He's also our go-to guy for all issues related to health, high street and public affairs.
View full Profile