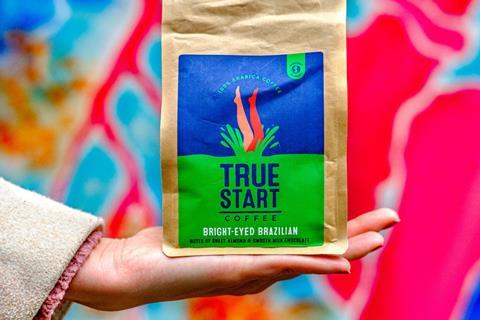 TrueStart Coffee has been certified as a B Corp.
The 'stable caffeine' coffee brand achieved an "outstanding" score of 99.6 in the B Corp assessment, coming out strongest on environment followed by workers.
It had undergone a "rigorous" assessment to achieve this status, "having met the highest verified standards of social and environmental performance", it said.
The brand was originally launched by husband and wife team Simon and Helena Hills in 2016 and marketed as the "world's first caffeine-controlled instant coffee".
It has since, however, rebranded and ventured into ground coffee and cold brew coffee as well.
Helena Hills said she was "indescribably proud and delighted to be part of the B Corp community, using business as a genuine force for good and empowering consumers to make informed, ethical purchases".
"We plan to be very active in driving genuine and lasting change by educating consumers in what B Corps are, and really championing this movement."
Hills added that she wanted "to simplify the ethical proposition for consumers and make it mass-accessible. It is our way of providing the responsible alternative, in line with our vision for a fairer, happier and healthier world."
TrueStart is one of several fmcg brands to achieve B Corp status in recent months.
After funding air pollution research with Imperial College London, Tenzing revealed it had scored 85.3 in the B Corp assessment in July, scoring highly in the air and climate category.
In June, Rude Health announced it had achieved B Corp status following "three months of rigorous testing".