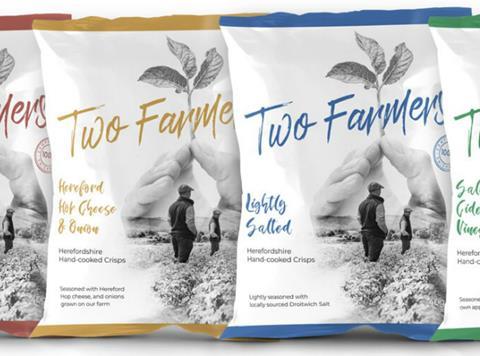 Herefordshire startup Two Farmers has unveiled a range of crisps in a 100% compostable bag – which it claims is a UK first for its category.
Four variants – Lightly Salted; Salt & Two Farmers Cider Vinegar; Hereford Bullshot and Hereford Hop Cheese & Onion (rsps: £1/40g & £2/150) – are available in compostable packaging made in the UK from eucalyptus wood pulp grown in sustainable forests. It provides the same shelf-life as a plastic crisps bag, and will break down within 26 weeks under domestic composting conditions.
The result of three years' development, the new range was created by Mark Green and Sean Mason – who in their jobs as farmers had "seen first-hand the impact plastic waste can have on the environment" according to Mason.
"We are also crisp lovers, and our greatest challenge has been to make great tasting crisps and find a way to bring them to market without compromising on our principles," he added.
"We have also been keen to source as many of the ingredients from our own farm as we can, or from local suppliers. Even the salt we use in our Lightly Salted variety is sourced from neighbouring Worcestershire."
Two Farmers is currently in search of listings with grocery. "It's very early days, but we have already received a number of independent retailers wanting to stock the products."