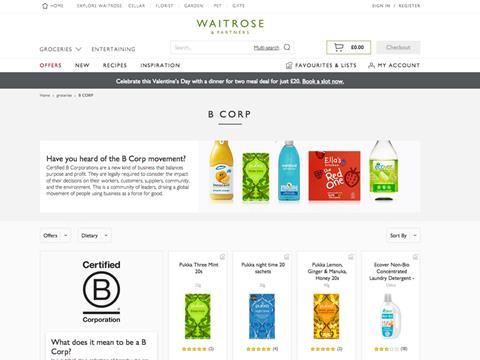 Waitrose has created a virtual aisle for B Corp certified products.
The online trial bands together 20 brands and 50 products for sale on its website that have met the high social and environmental standards required to be certified as a B Corp. The selection includes products from Innocent Drinks, Pukka teas and Ella's Kitchen.
An initiative of social enterprise B Lab, launched in the US in 2006, there are now more than 2,500 companies across 50 countries that have achieved certification as a B Corp. To do so companies must demonstrate they have 'the highest standards of verified social and environmental performance, public transparency and legal accountability to balance profit and purpose'. That includes considering the impact of all business decisions on their workforce, customers, suppliers, community and the environment.
"The trial on our website is for us to see how customers react to brands grouped together for an ethical shop, and complements everything we're doing from an own-brand point of view," a Waitrose spokeswoman said. "We know our customers are becoming increasingly interested in the environmental and ethical credentials of what they buy, so this will help us gauge how customers interact with brands in this way."
There are no point of sale signs or changes in stores to reflect the trial at this stage, she added, but the retailer expects to add further products online as the trial continues.