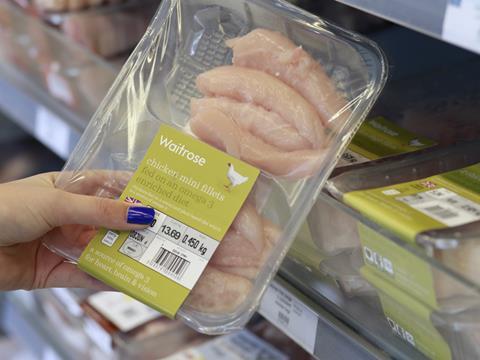 Waitrose has brought forward its commitment to make its own-brand packaging widely recyclable, reusable or home compostable by two years.

The upmarket retailer has brought the goal forward from 2025 to 2023 as 70% of the plastic it uses in own-label products now already meets the pledge. Waitrose said it is on track to increase this to 80% by 2020 before reaching its 100% goal by 2023.
Based on figures it collected last year, the commitment means Waitrose will replace around 11,000 tonnes of non-recyclable plastic with more environmentally-friendly alternatives within two years of reaching the target.

The retailer is also "close to reaching" its aim to take all its own-label meat, fish, fruit and veg out of black plastic by the end of this year, and stop selling own-label products in black plastic packaging beyond the end of 2019. The move to make all its own-brand packaging widely recyclable, reusable or home compostable comes as part of Waitrose's wider efforts to become a more sustainable retailer. This has already seen it remove disposable coffee cups from all its 353 stores, trial zero-emission refrigeration units in six of its delivery trucks as part of a study and replace plastic straws in its cafés with paper versions.
Waitrose said it is the steps it has taken to become more environmentally-friendly that have allowed it to push this pledge forward. These include reducing overall packaging for its own-label products and reducing packaging by almost half since 2009, switching black plastic lids on drinks bottles to a clear plastic alternatives, removing 65% of the material from its fruit & vegetable packaging and relaunching its own-brand confectionery selection without the use of black plastic.
"This is an area we care passionately about and although we know we still have more to do we are making progress all the time and are determined to maintain our momentum," said Waitrose head of CSR, health and agriculture, Tor Harris.